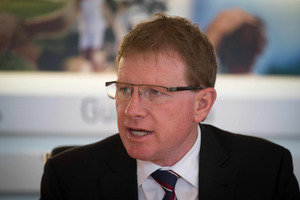 Fonterra's chairman John Wilson says Government ministers must not be put off visiting New Zealand companies or meeting Chinese officials in China by the controversy over Justice Minister Judith Collins meetings with Oravida.
Mr Wilson is in Beijing for a visit by Prime Minister John Key, who will arrive today to front up to China's leaders, China's state media and Fonterra's clients over the false contamination scare last August.
Mr Key's visit follows a week of media attention on Ms Collin's visit to Oravida's offices last year, and a dinner with Oravida bosses Stone Shi and Julia Xu, as well as a Chinese border official.
Ms Collins' husband is a director of Oravida and she is close friends with Mr Shi and Ms Xu.
Asked if he was concerned that the controversy over Ms Collins' visit would deter other ministers from visiting exporters or officials, Mr Wilson said New Zealand's ministers had travelled to support trade for decades.
"That needs to continue."
"The visibility of leadership here in this market is important. While we as businesses work very hard to understand the market, the Government to Government relationship is so important. It does reinforce and enable us to grow our businesses here."
Fonterra will host a function today for its clients in China to meet with Mr Key. Mr Wilson said it was not embarrassing to the company that Mr Key had to make a special trip to defend New Zealand's food safety record and would be armed with recent court charges laid against Fonterra.
"It is very important to have the Prime Minister up here.
"For all of us that operate in business in markets such as these, we do everything we can to ensure we build on our past reputation. But this is also a Government to Government relationship. This is a dynamic market, and the expectations of consumers here for food safety are at levels higher than we see anywhere else in the world."
He was confident Chinese consumers had picked up that message, partly because Fonterra's sales data was very strong.
Fonterra has accepted the charges the Ministry for Primary Industries had laid against it, and Mr Wilson said he would have like to see those charges laid earlier so the matter could have been addressed more quickly.
He believed China's consumers had appreciated its honest response to the matter.
"Fonterra absolutely respects the food safety systems we have in New Zealand. They are among the best in the world."
However, Fonterra had been in China for 40 years and had built up strong relationships with officials, local companies and consumers.
"It's always important to recognise what occurred. It's important to acknowledge that for those mothers we created some uncertainty for a short period of time." However, he said, it was time to move forward.
Mr Wilson said the reason it had accepted responsibility was because the charges were in line with what its own review had found relating to the processing of the whey concentrate and the delay in notifying the companies' top bosses.