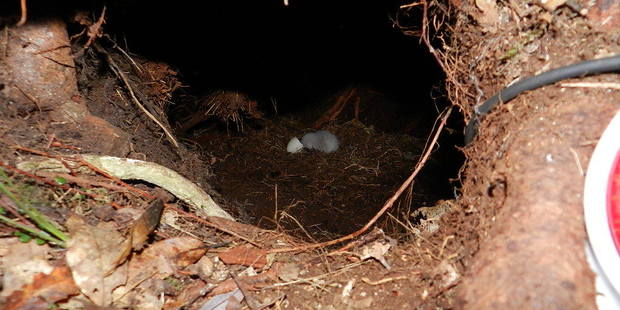 A highly endangered kakapo chick has hatched in the wild on Little Barrier Island, less than two years after adult birds were re-introduced there.
'Heather One' hatched on the island on Wednesday night, leading to concerns for its safety during ex-cyclone Lusi.
But Kakapo Recovery programme manager Deidre Vercoe Scott said the chick's nest was in a sheltered spot. Rangers also checked the site for loose branches and dug extra drainage to prevent flooding.
The kakapo hatching is the sixth this season, with five others hatching on Codfish Island, near Stewart Island. A seventh died a few hours after hatching on Codfish last week.
Ms Vercoe Scott said all the chicks were doing well, and the team was particularly thrilled with the successful breeding on Little Barrier Island.
"Kakapo were first introduced there in 1982 and had some success breeding there, although they needed supplementary food.
"They also needed protection from the kiore (Pacific rat) and in 1999 all kakapo were removed so the rats could be eradicated from the island."
Nine kakapo have been transferred back to the island since 2012, and this time are not being given supplementary food.
The mother of the new chick, Heather, mated three times and produced two viable eggs.
The second egg was transferred to Codfish Island to ensure that when it hatched it didn't have to compete with its sibling for food. Heather Two has successfully hatched on Codfish.
Two of the five chicks there have been fostered out to kakapo mothers who had been sitting on dummy eggs, and will be monitored to ensure they are fed and healthy.
The other three were being cared for in incubators and hand-fed.
Kakapo are highly endangered, with fewer than 150 remaining in three populations on predator-free islands: Codfish Island, Little Barrier, and Anchor Island in southwest Fiordland.
Chicks are temporarily named after the breeding mother before being given a formal name.
- APNZ