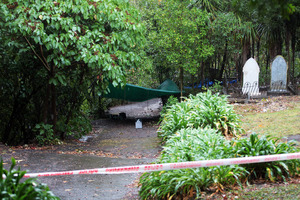 Serious injuries have prevented the victim of a sex attack at a central Auckland cemetery from speaking to police.
The 34-year-old sex worker suffered numerous physical injuries during the attack which took place about 5.30am on Saturday.
She had met her assailant in the vicinity of Liverpool St and Karangahape Rd prior to the assault and remains in hospital, Detective Senior Sergeant Paul Newman said.
"She suffered some pretty bad injuries so we're hoping over the next couple of days that we'll be able to catch up with her and be able to speak in detail about the attack."
Police were hoping to speak to members of the public, including a taxi driver, who helped the woman after her attack, Mr Newman said.
"The victim was heavily traumatised and probably won't be able to give us a lot of detail around her movements after the attack.
"She had quite extensive injuries right around her body, particularly to her face, where she's received quite serious injuries."
The attack took place in the Symonds St Cemetery near the intersection of Grafton Bridge and Symonds St, however the area was not visible from the road, Mr Newman said. "It was an area of reasonably thick bush."
Police would be speaking to other prostitutes who worked in the area to try to gain further information and warn them about the need for safety when going about their work, he said.
"We're doing as much as we can, but until we really speak in detail with the victim we can't really take huge leaps forward."
Following the attack the victim sought refuge in the Langham Hotel, where staff assisted her and contacted police, Mr Newman said.
New Zealand Prostitutes Collective Auckland regional coordinator Annah Pickering said it was not common, and definitely not encouraged for sex workers to take clients to a cemetery.
"From our experience, when you have incidences like this which have happened, it's usually ended up quite violent ... sometimes it can be a person's intent to hurt a sex worker, or hurt other members of the public."
Ms Pickering said tomorrow she would talk to other sex workers who operated in the area about the attack.
Many of them knew each other. They were encouraged to stay safe by informing each other of their movements and taking down licence plate numbers and physical descriptions of clients, she said.
"At the moment we're just urging anyone who knows anything or who was around the area at that time of the morning to come forward."
"Post-decriminalisation, the good thing is that sex workers can go to the police and report incidences of crime."
In 1996, sex worker Natacha Hogan, known as Twiggy, was raped and murdered in the Symonds St Cemetery by New Zealand's first serial killer, Hayden Poulter.
Anyone with information about Saturday's attack is urged to contact Auckland police on (09) 302 6557 or Crimestoppers, anonymously, on 0800 555 111.
- APNZ