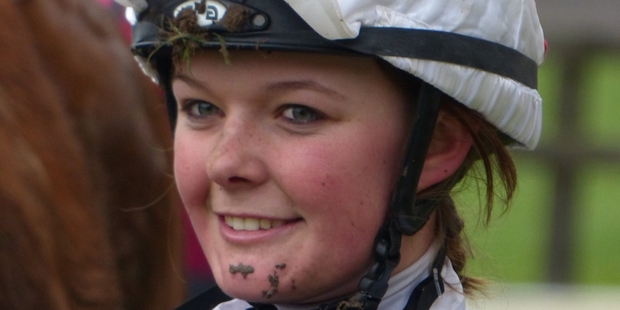 Leading Canterbury apprentice jockey Ashley Frye was in an induced coma in Christchurch Hospital last night after a race fall at Ashburton.
Frye fell yesterday from the Steven Woodsford-trained Zuleika about 200m into the 1200m when the 3-year-old filly faltered and fell.
"It was awkward away, and you can see Ashley obviously had concern with it because it wasn't stretching out," co-chief stipendiary steward Nigel McIntyre said.
"From there, it's gone 150m and collapsed to the track at a considerable distance off the back of the field and clear of other horses.
"[Frye] has made a heavy impact on the ground with her head," he said.
Frye was taken unconscious from the course by ambulance to Ashburton Hospital, then transferred to Christchurch Hospital by a Westpac helicopter in a critical condition.
Her father, Danny Frye, a former jockey, and her partner, fellow jockey Matthew Cropp, travelled to Christchurch to be by her side, Mr McIntyre said.
He said an autopsy on Zuleika, who was put down after breaking a hind leg and sustaining a fracture around the hip area, revealed the horse had suffered a severe rupture to an artery. "It's filled up with blood and crashed to the track step-by-step and broken its leg.
"It looked like [Frye] was tangled in the horse for a wee period of time before she got cleared when the horse was trying to get up."
Stewards called for the autopsy as the fractures were consistent with the horse falling to the ground, which indicated the problem - later discovered to be the artery rupture - happened prior to the fall.
Mr McIntyre said the primary concern yesterday was to get Frye to the hospital.
He said the stewards had embargoed the video footage and would go over it further at the first chance.
- APNZ