Relatives of passengers missing on Flight MH370 still arriving at airport.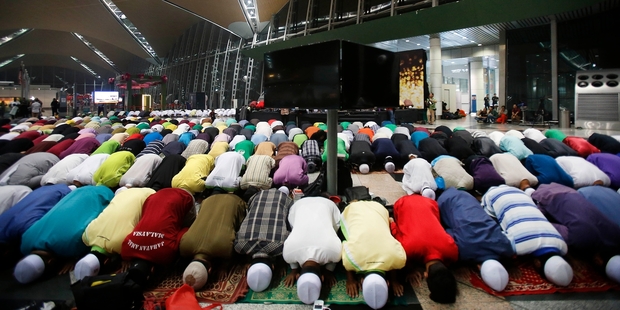 Where airports are concerned, the arrival hall is usually its "happy place" - where loved ones are reunited and holiday makers begin new travel adventures.
But not at Kuala Lumpur International Airport, where 239 passengers and crew of Malaysia Airlines Flight MH370 were last seen before seemingly vanishing from the face of the earth.
In the week since the jetliner went missing, the arrivals area has turned into a solemn hall of tears. Relatives have been streaming in almost on a daily basis, some sobbing, others wailing. Many are overwhelmed to be walking on the same ground their loved ones walked before they disappeared.
A middle-aged woman who arrived from Beijing in search for answers said she has been praying the flight had been hijacked, because that would mean there was a chance her godson would still be alive.
Zaidah Mustaffa, a teaching fellow at the University of Auckland, whose relative Suhaili Mustaffa is among the missing, is trying to remain hopeful.
"I have been preparing myself to expect the worst," she said.
"But it is easier said than done. I pray and hope for what is best for everybody."
Other distraught family members, such as Mohammed Johari, whose uncle is missing, wander around the airport after attending daily press conferences at a neighbouring hotel.
"It is frustrating and infuriating," he said.
Armed soldiers and police have stepped up their patrols there but for Mr Johari, it's much too little, much too late.
"What's the use of all this when they cannot even stop two imposters getting on the plane."
Outside the airport, the mystery of the missing jetliner also dominates conversation, with everyone having their own theory as to what happened. Speculation ranges from alien abduction and hijack to explosions. None has proven to be factual. Many struggle to understand how, with all the technology in place, a Boeing 777-200 can vanish without trace.
One Malaysia Airlines flight attendant, just back from Hong Kong, said airline staff have been issued a directive against speaking to the media.
She says: "Of course the disappearance has affected all crew ... Not only because we know some or all of the missing crew, but it could have been any one of us."
The mood on board flights since the incident has been sombre, she said. Those flying out of Kuala Lumpur agree.
"No one dared ask the question, what happened to your plane, but you could feel it. You could sense the frustration and concern. It was a very sombre flight," said Aucklander Paul Ross who flew home this week on Malaysian Airlines. "It was complete dead silence. You could see on people's faces the concern."
His connecting flight from Kuala Lumpur to Auckland was delayed for two hours. But there was none of the usual anxiety that might usually be expected to accompany a delay, he said.
"People ... just sat and patiently waited. It was a very, very sombre experience waiting in that lounge."
He flew to New York a couple of weeks after the September 11 terrorist attacks in 2001 as well, he said, and the mood among passengers and crew on the Malaysia Airlines flights was similar.
Throughout Malaysia churches, mosques and temples are dedicating services for the missing and praying for a miracle.
Back at KLIA, visitors continue to write messages of hope at the viewing gallery.
"We will meet again," one message confidently said.
additional reporting: Sam Boyer