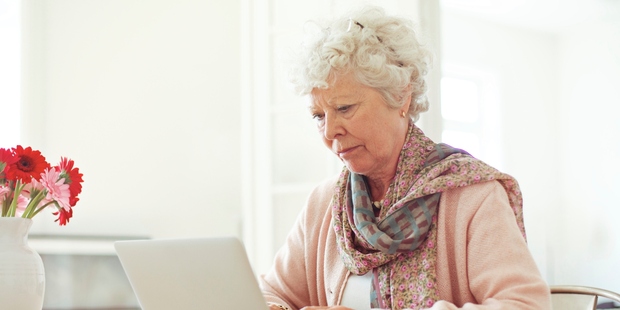 Octogenarian Elizabeth Ruffell is in the vanguard of older New Zealanders for whom texting and the internet is overtaking face-to-face contact with family and friends.
The Christchurch woman, 83, uses Facebook to keep up with many of her 22 grandchildren and is also a dab hand at texting and Skyping.
"I keep in touch with the younger generation through Facebook and often through Skype as well," she told the Weekend Herald.
"I can see my grandchildren growing up - sometimes I know things that the parents don't know."
Mrs Ruffell, who gained computer skills in 1999 through a SeniorNet learning centre and was then recruited to teach others, is in good company.
A Massey University study of 2000 New Zealanders aged 63 to 78 found 88 per cent have home access to the internet and that texting is the most popular means of keeping in touch.
It found 45 per cent texted their children or friends two or three times a week or more.
That compared with 26 per cent who met their children, and 34 per cent who caught up with friends face-to-face, twice a week or more.
Only 21 per cent met their neighbours that often.
Study co-leader Professor Christine Stephens said that raised questions about the difficulties of keeping in touch as people grew older, and the problems of isolation and loneliness facing some.
But she believed the findings were more a result of people not living as close to one another as they once did, rather than personal contact being displaced by new media.
"I don't think it stops people going to see each other - it probably provides a very helpful substitute," she said.
Age Concern Counties-Manukau chief executive Wendy Bremner said isolation was a huge problem for growing numbers of older people, and new technology a helpful tool for some.
Mrs Bremner said nothing could beat face-to-face contact, and urged people to take part in Neighbour's Day at the end of this month as a valuable community-building exercise.