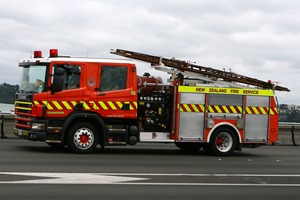 Fire trucks are currently at a blaze at an apartment building in downtown Auckland.
Up to 10 fire trucks are at the scene, on Hobson Street, where a third-alarm fire broke just before 4.30pm.
A St John spokeswoman said only one person had suffered minor smoke inhalation.
Fire Service senior station officer Barry Fox said there was a "well-established" fire in the restaurant's kitchen when emergency services arrived.
A sprinkler system kicked in soon after and helped to control the blaze.
"It definitely started in the kitchen area and was contained there and the dining area," Mr Fox said.
One employee was treated for smoke inhalation, at the scene. It is understood they had been trying to contain the fire.
Suvhi Kahn, who lives on the fifth floor of the building, said everyone quickly evacuated when alarms went off.
"When I came down, the lobby was covered in thick, black smoke.
"It looked like there was smoke coming from the cafe. I didn't see anything on our floor, but when we came out of the apartment, we could smell the smoke. It was like a burning tyre or burnt plastic kind of smell.''
Guests at the Heritage Hotel across the road were also evacuated as a precaution.
A staff member at Marbecks Cafe, Manon Dupin, said staff were alerted by a member of the public who started tooting her car horn and then knocking on their shop door; showing them the smoke above their building.
Ms Dupin said: "You coudn't see the street. It was thick smoke.''
Vantage point #fire investigation in Auckland CBD. Hobson St closed, rumoured gas explosion pic.twitter.com/JvS8vfHdMq

— Jessica Moloney (@JessicaMoloney) March 14, 2014