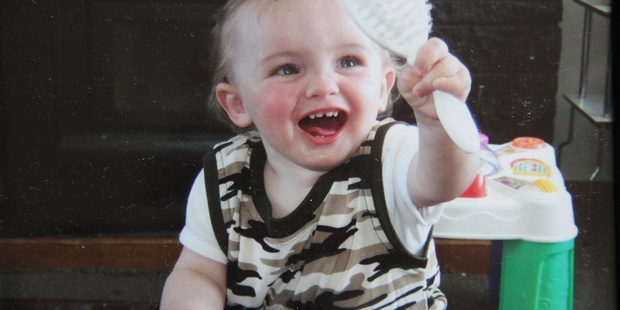 Toddler Caleb Skinner is slowly improving but doctors have told his parents he won't fully recover from the injuries he received when he was assaulted.
The 2-year-old was assaulted at his George St home on March 3, allegedly by a man known to his mother, Joanne Smith.
Caleb was resuscitated by ambulance staff and taken to Wairarapa Hospital with serious head injuries where he was stabilised, put into an induced coma and flown to Starship Hospital for further treatment.
Caleb has slowly been brought out of the coma by doctors but it is early days yet.
His dad, Daryll Skinner, said doctors were unable to say how much brain damage Caleb had sustained or how it could affect him long term.
"They have said he won't have a full recovery; that there will be some brain damage. They can't estimate how much brain damage he has because they don't know the full effect yet. It could be weeks, it could be months. We just don't know," Mr Skinner said.
Caleb wasn't well during the weekend but was spending longer periods awake, he said.
"He's had a temperature and is sleeping on and off. He is talking but it is hard to work out what he is saying ... I'm feeling a bit better because we are seeing a bit of improvement. It's just one day at a time from here."
The couple are no longer in a relationship but are at Caleb's bedside together, on leave from their jobs.
Two appeals have been set up to support them during this time.
For more articles from this region, go to Wairarapa Times-Age