Conservationists eager for Auckland Council to secure the island sanctuary's future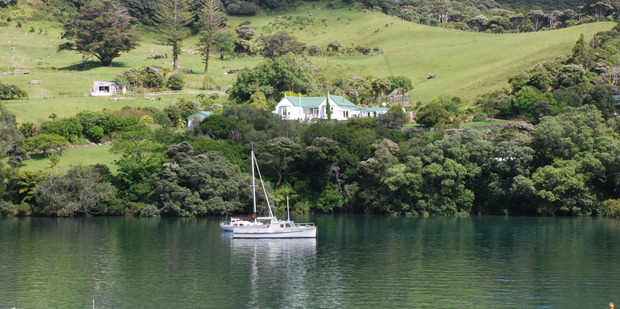 Anxious Great Barrier Island conservationists have lobbied Auckland Council to secure the pest-free future of an historic island sanctuary which has been listed for sale.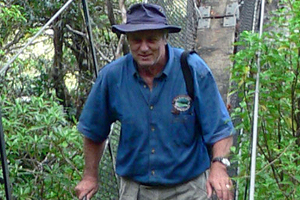 The property, Glenfern Sanctuary, is on Kotuku Peninsula and lies inside a rodent-proof fence. Island conservationists fear the 82ha property could be sold to a bidder unwilling to retain its award-winning nature sanctuary.
World champion sailor Tony Bouzaid established the Glenfern Sanctuary - a restored fragment of unlogged kauri forest. The land includes 100-year-old Fitzroy House, in Fitzroy Harbour.
Mr Bouzaid was a top sailmaker and a champion yachtsman who became a determined conservationist after moving to Great Barrier Island in 1992. The brother of One Ton Cup winner Chris Bouzaid, he won the World Half Ton Championship in 1977 and 1978.
Tony Bouzaid died in October 2011 after driving the planting of 15,000 trees and building of a 2km rodent-proof fence to protect endangered wildlife on his and four neighbouring properties on the Kotuku Peninsula.
The voluntary conservation effort has continued - helped by 3000 visiting students a year, many of them from the Sir Edmund Hillary Outdoor Pursuits Centre.
Last year, the Kotuku Peninsula Trust was formed to manage the whole 240ha of the peninsula inside the pest fence and pay for running costs.
But shockwaves rippled through the conservation community on December 19 when Mr Bouzaid's family put the waterfront property up for sale.
Sothebys International Realty listed the restored homestead, guest cottage, manager's house, deepwater jetty and Glenfern Sanctuary's 82ha of bush and walking tracks for $3.35 million.
Sothebys' agent John Greenwood said most of the bush areas were protected by a QEII covenant and there was a stringent condition of sale:
"The vendors are very sincere that any purchaser of the property will continue the work done and keep the Glenfern Sanctuary open."
Such a benefactor is yet to make an offer.
Kotuku Peninsula Trust chairwoman Caroline Leys said it was reasonable for Mr Bouzaid's widow, Mal, and family to "sell and move on" after 20 years in the project.
"It's an amazing legacy - Tony and Mal contributed hundreds of thousands of dollars to it."
However, the other two-thirds was public money - grants and donations for continuing restoration work and pest control over the peninsula, which includes not only the Bouzaid's Glenfern land but also an 80ha scenic reserve administered by DoC, an 80ha property owned by the Orama Christian Camp and two smaller lots owned by the Leys and Winger families.
Former associate professor of ecology at the University of Auckland John Ogden, who started master level field courses in the sanctuary, said he was concerned about Fitzroy House and Glenfern passing into "unsympathetic" ownership.
Efforts to control pests should not be allowed to slip backwards instead of moving on with restoration of the ecosystem.
"It appears that a considerable quantity of public money has been invested in the Sanctuary and the surrounding areas.
"The opportunity to build on this investment should not be wasted."
Dr Ogden said public access must be secured to a historic site with such magnificent views and a restored ecology.
"The moment Glenfern changes hands is a delicate one because it's a national treasure," said Mrs Leys.
"DoC says it has no resources to do this work and they need people like us - we already have a good record in working in a public private partnership."
Sanctuary supporters see Auckland Council as an ideal member of that partnership, if it bought the Bouzaid land and loaned its expertise in biosecurity and biodiversity presently applied over the regional parks network.
A spokesman for Mayor Len Brown said he had been briefed on the situation and parks staff were considering the matter.
Council parks, sport and recreation committee chairwoman Christine Fletcher said staff were preparing a proposal based on a private public partnership for council consideration.
The Bouzaid property was important for New Zealand not only as a safe habitat for endangered species but also as the primary tourism attraction on Great Barrier Island.
"Commonsense dictates that this land should be secured for the future but at a minimal cost to the ratepayers and this could be an opportunity to demonstrate how partnerships can work."
For sale
Slice of Great Barrier Island nature
• 100-year-old Fitzroy House - homestead, guest house.
• 80ha Glenfern Sanctuary, with 300-year-old kauri, walking tracks.
• 61ha under QEII covenant.
• 2km pest-proof fence - protects rare species' breeding spots.
• 3,000 visiting students a year from schools and Outdoor Pursuits Centre.
• Endangered and threatened species: black petrel, pateke (brown teal), North Island robin, Cook's petrel, kaka, chevron skink.
• Teaching venue for ecology and social history.
• Awards - Environmental Initiatives Private Land, The Society of American Travel Writers Phoenix Award.