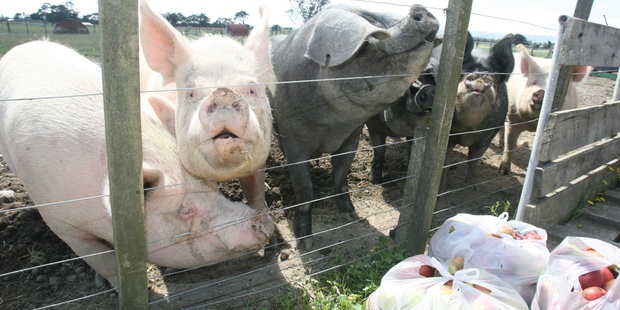 A lifestyle block farmer who bashed two pigs with a heavy steel bar in a "prolonged and violent attack" in front of an upset teenage boy has been jailed today for four months.
Clayton Thomas Dovey, 50, was loading four pigs onto a trailer at his Eyrewell Forest property just north of the Waimakariri River.
Five other people, including two teenage boys, were helping him take them away for slaughter.
But the pigs perhaps sensed their intended fate and were reluctant to comply with his orders.
When one pig tried to get off the trailer, Dovey struck it on the head with a 6.3kg metal pole, Christchurch District Court has heard.
He became increasingly angry with the pigs as "they were not listening" and his attacks on the pigs became more intense, a police summary of facts says.
Dovey struck two pigs about the head, neck, shoulders, the court heard.
When one pig escaped from a holding yard, he started lashing out at it.
He chased the pig around the yard.
For the next 30 minutes, he kept up his concerted attack, making no attempt to get it on the trailer.
He told one of the 16-year-old boys, "Now it's your turn to do it."
The boy refused and left the pen suggesting the pig should be killed.
Dovey ran over the pig's head on a quad bike, police say.
When animal welfare inspectors from the SPCA visited the following day, they found one of the pigs with a visible injury above its right eye.
They also found a blood-stained metal bar in the pig pen.
Dovey turned up and "quickly became extremely abusive and verbally threatening towards the inspectors and told them to leave".
A necropsy carried out by a veterinary surgeon found the pigs would have been in "significant pain and distress".
In his view, such injuries "would have likely killed any human".
Dovey, who lives in a house bus on the rural property, earlier pleaded guilty to two charges of cruelty/ill treatment of animals contrary to the Animal Welfare Act, plus one charge of unlawful possession of .22 ammunition.
Defence counsel Keith Hales said he had acted out of "sheer frustration", adding, "these pigs were a force to be reckoned with".
A probation report says Dovey displayed no remorse.
Judge David Saunders was concerned by what he described as a "very prolonged and violent attack by you with a steel bar on these pigs".
"It is close to a worst case of its kind, in terms of real cruelty to these animals, not withstanding they were earmarked for slaughter," the judge said, adding that they deserved to be dealt with in a humane way.
Judge Saunders jailed him for four months and ordered him to pay veterinary fees to the tune of $676.80.
- APNZ