Paralympian and neuroscientist among top Auckland Uni alumni at award dinner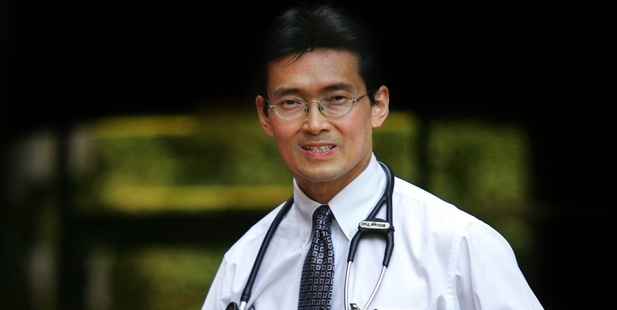 It was during his time in Auckland that Dr William Tan says he "blossomed" as a long-distance wheelchair athlete, breaking numerous national records.
He would go on to complete the London and Boston marathons, and in 2007 he became the first to complete a marathon at the North Pole.
The Paralympian and Singapore native is one of six former University of Auckland students who will be recognised as distinguished alumni at an award dinner next Friday.
The other alumni to be honoured are Bruce Aitken, Gareth Farr, Dr Julie Maxton, the Hon Dr 'Ana Maui Taufe'ulungaki and Roseanne Liang.
But while Dr Tan's athletic feats are impressive enough - he has completed seven marathons in seven continents in 26 days - they are only part of his remarkable story.
The 56-year-old, who contracted polio when he was two and is paralysed from the waist down, is also a distinguished neuroscientist and medical doctor.
He has found time to raise more than $18 million for charities through activities such as skydiving, waterskiing and climbing buildings.
Study at the University of Auckland between 1989 and 1995 brought an MPhil (Medical Science), Master of Health Science, and PhD in paediatrics.
"I was looking at the process of brain injury from oxygen deprivation during childbirth and how interventions using drugs can be carried out to salvage the brain cells after the injury," he said.
After his PhD, he continued in the same field of research at the university's Research Centre for Developmental Medicine and Biology for two years, before heading overseas to complete research into oxygen deprivation during neurosurgery and stroke.
He now has a role at Singapore's Peak Performance Institute.
"I am using my knowledge of neuroscience to help individuals, leaders and organisations peak perform."
Dr Tan is also a resident physician at Singapore's National Cancer Centre, after being diagnosed with stage four leukemia in 2009.
On doctor's orders he has given up marathons - instead channelling his energy into climbing up the world rankings in para-table tennis. He also fits in a spot of inspirational speaking.
Honoured
University of Auckland's distinguished alumni
• Bruce Aitken was president and chief executive officer of Vancouver-based Methanex Corporation, the world's largest producer of methanol.
• Gareth Farr, one of New Zealand's leading composers.
• Dr Julie Maxton, the executive director of the Royal Society of London.
• Dr William Tan, neuroscientist, resident physician, Paralympian, international inspirational speaker and champion for needy causes.
• Hon Dr 'Ana Maui Taufe'ulungaki, an academic who was appointed the Tongan Minister of Education, Women's Affairs and Culture in 2011.
Young alumna of the year
• Roseanne Liang, a writer and film director.