Hundreds of boxes of cremated remains will be given a final resting place if loved ones don't come forward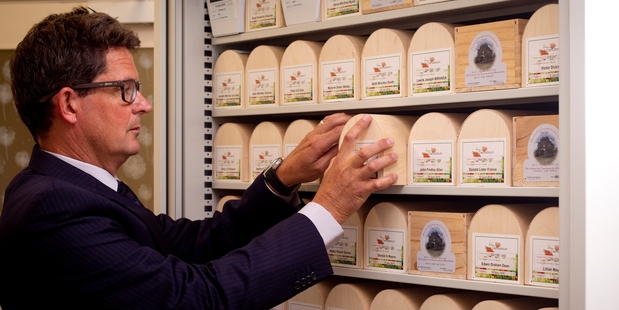 In cupboards and cabinets across Auckland, the ashes of hundreds of people sit waiting to be claimed but, for a variety of reasons, their loved ones have left them on the shelf.
Next month, one of the biggest funeral companies in Auckland will carry out a mass interment of ashes it has been storing for years, unless relatives claim them.
Davis Funerals, with branches in Henderson, Mt Eden and Pakuranga, has 427 boxes of ashes that have not been claimed after cremations between 2005 and 2011.
Managing director Craig Little told the Herald that any boxes not claimed by the end of the month would be buried the vineyard of the Davis Funeral Home Chapel and Crematorium. A memorial bench would be erected at the site, and the names of those interred recorded in a special book in case loved ones wanted to visit their final resting place.
Mr Little, who organised a similar mass interment in 2005, said there were many reasons people did not claim ashes after a cremation.
Often the person charged with picking them up fell ill or died themselves. In some cases where siblings didn't get along, the ashes were never collected.
"Sometimes it's a second-marriage situation and perhaps the children don't get on with the new wife and they can't make a decision between them that satisfies both parties. Other times it's something that is simply put in the too-hard basket," said Mr Little.
"For some people, it's too difficult a situation for them to handle and it's just as easy to leave the ashes with the funeral director because they know we'll look after them."
People usually collected ashes within three months of a cremation. In a lot of cases they asked Mr Little and his team to scatter the ashes for them. "We may take them out to sea and scatter them, or go up to one of the parks and find a quiet spot.
"Generally loved ones give us an indication about where they would like us to do that."
Mr Little has sent letters to the family of each person whose ashes he is storing. So far, 23 have asked that the ashes be interred at the memorial site.
"We notified them that we still had the ashes and could they come and make arrangements. We've held the ashes for a period of time and now we'd like them to advise us as to what their intention is," he said.
"Eventually we need to do something otherwise the ashes are just languishing on the shelf forever."
Last year, the Herald revealed that hundreds of boxes of ashes were being stored at funeral homes around Auckland, some dating back to the 1930s.
Mr Little urged people who hadn't claimed ashes between 2005 and January 2011 to call (09) 638-9026 or email office@davisfunerals.co.nz.
Numbers
• 427 - boxes of ashes unclaimed at Davis Funerals
• 2005 - All cremated between 2005 and January 2011
• 31 March - The date by which they must be claimed; any unclaimed ashes will be buried at the vineyard of the Davis Funeral Home Chapel and Crematorium.