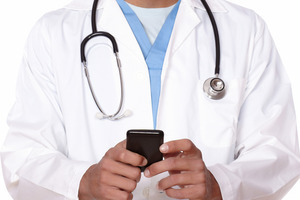 An Auckland doctor, accused of forming an inappropriate sexual relationship with a patient, says he was having an affair with her friend, who lived with her and shared her phone.
On the second day of the Health Practitioners Disciplinary Tribunal hearing in Auckland, doctor H was confronted with a stack of pages detailing hundreds of text messages - many of them explicit - between himself and the female patient, known as Ms A.
However, he claimed his lover was in fact a woman who lived with Ms A and her family and would often share the phone of his patient, switching between this and a pre-paid mobile. She also has name suppression and his known as Ms B.
The doctor is facing a charge of professional misconduct over his alleged behaviour between February and December 2010, which he denies.
Giving evidence today, doctor H said he had conducted an affair with Ms B - around 30 years his junior - during this period, which he now regretted.
They had sex four or five times, and often exchanged sexually explicit text messages during the affair.
Ms B would alternate between two or three different mobile phones, he said, often using Ms A's phone to text him.
Asked by director of proceedings Aaron Martin if this was risky or unprofessional, doctor H said: "In retrospect yes, but I always made sure that on the other side of the phone was the person I [intended to] send to, because she always contacted me before I sent text messages.''
As Mr Martin continued to go through each text message, doctor H maintained he was always texting Ms B in messages which were explicit or about their relationship. Others however, he was not so sure about, and many appeared conflicting, with doctor H appearing to refer to 'class', 'school' or 'education' in some messages to Ms B, even though she wasn't a student.
Ms A was a part-time student, and Mr Martin said this showed doctor H was in fact carrying out a relationship with his patient.
Doctor H denied this, saying such references meant work in general, and were not specific to university study.
Similarly references to `mum' were in relation to Ms B calling Ms A's mother `mum' because they lived together and were close, he said.
He also claimed Ms B's nickname was the same as a shortened version of Ms A's first name. A name which appeared in many of the texts.
The tribunal also heard details of text messages doctor H's wife had sent to both Ms A and her estranged husband, in which it appeared she believed he was having an affair with Ms A.
Doctor H said his wife had "jumped to that conclusion'' but it was inaccurate.
However, Mr Martin continued to challenge the doctor, concluding by saying: ``In the face of the overwhelming evidence ... are you not prepared to tell the truth about your relationship with [Ms A]?''
He replied: "I'm telling the truth. [Ms B] was living with her, and those messages are to [Ms B].''
Ms B has since left New Zealand, and was traced to Fiji.
The tribunal hearing is expected to close tomorrow.
- APNZ