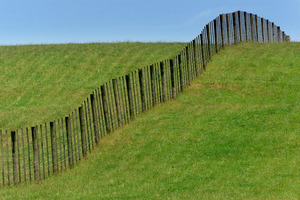 The death of a Napier man who climbed a deer fence in the middle of the night and fell about 10 metres into a creek where he drowned, was a "sad accident", a coroner has found.
James (Jamie) Rollo Berry, 30, was intoxicated, angry and agitated at the time of the incident, Palmerston North Coroner Carla na Nagara said.
On the night Mr Berry died, he had travelled to Ohakune from Napier with his partner Kare Rogers.
They met his cousins Robert and Jason at a bar to listen to a band.
About 11.30pm Mr Berry became involved in a heated confrontation with another bar patron, who bouncers removed from the premises.
A short time later, Mr Berry became agitated again when another cousin suggested Robert needed to "sort Jamie out", the coroner said.
Robert and Jason put him in their van and Jason attempted to drive him home because he could not calm down.
About 10 metres into the trip, Mr Berry jumped out of the van and sat on the side of the road. Jason stayed with him and Robert drove the others home.
However, when Robert returned, Mr Berry was not with his cousin but had jumped over a nearby deer fence.
The pair eventually found him lying face-down in a creek that was at the bottom of a steep drop off by the deer fence, Coroner na Nagara said.
They tried to resuscitate him, but he had died.
A post-mortem examination found the cause of Mr Berry's death was by drowning. It also found he was intoxicated and could have been impaired by alcohol.
The pathologist also noted it was possible a mild head injury resulted in concussion during Mr Berry's fall, but that could not be definitively determined.
Coroner na Nagara said that at the time Mr Berry climbed the fence he was "agitated and angry and under the influence of alcohol".
"His cousins, with whom he had been socialising the previous evening, responsibly took all reasonable steps to stay with him and get him home safely, but Jamie managed to get away from them, and tragically fell to his death."
She said his death was a "sad accident".
- APNZ