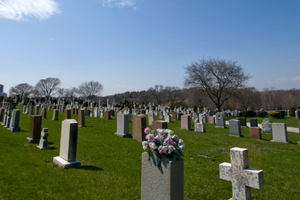 The mother of a 2-year-old whose gravestone was destroyed says it was easy to forgive the relative responsible.
"It's family, I can't exactly do anything about it," Julian Henry told APNZ outside the Manukau District Court.
Her daughter Jazmhyn Leiataua was run over in a driveway accident in 2009 and four years later, Ms Henry was aghast to find the gravestone erected in her honour removed from its base and tossed into flax bushes at the Mangere Lawn Cemetery.
The woman responsible was Ms Henry's cousin Alisa Taualofa, 28, who was today sentenced to 18 months' intensive supervision on a charge of intentional damage. She must also pay $780 reparation for the damaged gravestone.
Ms Henry said a new one had already been put up.
Taualofa's actions were aimed at framing people who lived down her street, the court was told.
Between June and December 2012 she placed letters on Jazmhyn's grave that contained threats of damage. The following year Taualofa created a false Facebook profile and befriended the toddler's parents.
In May and June last year, using the fake account, she sent Ms Henry and her partner threatening messages and finally on June 16, sent one saying the gravestone had been defecated on.
"When the victims went to the gravesite they found that Jazmhyn's gravestone had been removed from its concrete base," Judge John Bengseng said.
Police inquiries traced the offending to Taualofa.
She has since faced Ms Henry and her partner at a restorative justice meeting, where Ms Henry offered her forgiveness.
"You destroyed something that we found hard to put up for our daughter. It wasn't easy. We're not a wealthy family. For you to do that, it's ripped us apart," Ms Henry told Taualofa, who has no previous convictions.
In turn, Taualofa's actions has brought shame onto her family. At the meeting she said she was remorseful and would accept whatever punishment came her way.
Judge Bengseng read extracts from Ms Henry's victim impact statement, which said she found it difficult to feel at ease about her daughter lying at rest because of what happened.
"She finds your actions hurtful, disgusting, devastating," the judge told Taualofa.
Her sister Faaleilei Taualofa was also charged with intentional damage but police said that will be dropped at her next court appearance.
- APNZ