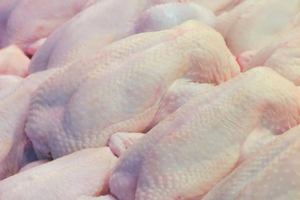 On a hot summer's day a South Auckland man's unlicensed chicken processing operation continued in full swing, amid flies and pools of chicken blood on a garage floor and benchtop.
Rong Yu Zhen ran his chicken farm on a rural Flat Bush property, but in the main work area, there was no refrigeration and plucked chickens became a risk to bacterial and chemical contamination.
Nevertheless, Zhen sold his chickens to restaurants and they were served up on the plates of unsuspecting customers.
Zhen's unlawful business was uncovered by Ministry of Primary Industries officers posing as customers in a sting dubbed Operation Ginger.
An officer saw a newspaper advertisement and called Zhen up.
Between August 2012 and April 2013 the undercover officers bought 137 prepared chickens of Zhen, for $2980, and four trays of eggs.
It was in February 2013 that an officer uncovered the unhygienic processing facilities, the Manukau District Court heard today.
Two months later Zhen's business was raided and invoices seized indicated that over some 110 transactions, he had sold 2620 chickens for $52,103.
The assets of the business were seized, as was $30,475 cash and a cheque.
Zhen subsequently admitted 16 charges laid under the Animal Products Act. Fifteen related to the sale and possession for sale of animal products knowing they were not processed in accordance with the law.
The other charge said Zhen failed to comply with the act.
Zhen had since given up the business and was now working as a takeaway chef. He was unable to pay a fine so was sentenced to 175 hours' community work.
Judge John Bergseng said Zhen had no previous convictions and was remorseful, however, his chicken operation put consumers at "significant risk".
"You realise now that the food safety standards are in place to ensure the safety of all consumers."
Zhen's company was convicted and discharged on one related charge.
- APNZ