Work on new road should ease congestion.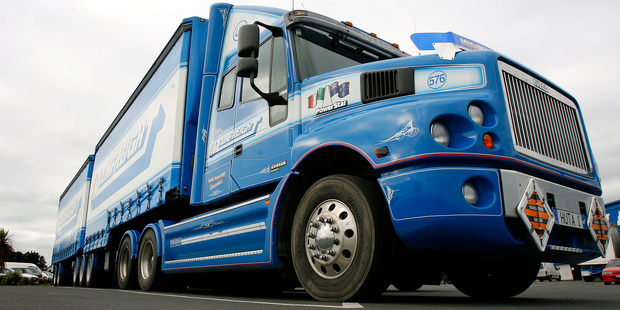 Q: Can you tell me whether trucks should be using Ireland Rd in Panmure as a thoroughfare? When turning left on to Ireland Rd from Waipuna Rd there is a "trucks restricted" sign on the berm. However, when turning right from Waipuna Rd into Ireland Rd there is none. Again, when entering Ireland Rd from the Panmure roundabout there are no truck-restricted signs.
I am asking as the road has speed humps the whole length, it's not very wide when cars are parked and some of the corners are tight, making it frustrating for drivers following large trucks with semitrailers. There are also roadworks by Van Damms Lagoon which has narrowed the road. Louise McCoy, Panmure.
Auckland Transport says that the truck restriction is an advisory sign only. Even though there are speed bumps on Ireland Rd, it is still used by a large number of heavy goods vehicles as a short cut to get to Waipuna Rd.
AT expects there will be a reduction in traffic in the Panmure roundabout and Ireland Rd region when the new Auckland Manukau Eastern Transport Initiative link road opens.
This will run parallel to the rail corridor linking Morrin Rd and Mt Wellington Highway and is due to open in the middle of this year.
Q: Can you please tell me what is happening in Ireland Rd, Mt Wellington? There has been work going on there for months with huge pipes and a crane. We think it is something to do with Van Damms Creek as there is also a lot of work going on at the top of the creek adjacent to Mt Wellington Highway. Diane O'Sullivan, Panmure.
You are correct. Work is under way on upgrading and revitalising Van Damms Lagoon and reserve as part of the eastern transport initiative. Watercare is also upgrading stormwater pipes. The narrowing of Ireland Rd is because of the installation of a new water main linking Van Damms Lagoon to Panmure Basin. This work is due to be completed next month.
Auckland Transport is improving the stormwater quality and environment while providing an enhanced reserve for the community to enjoy. It will be close to the new road linking Mt Wellington Highway and Morrin Rd.
Two new carparks will be built to increase access to the lagoon. New and wider pedestrian paths will also be created.
As part of Watercare's pipe bridge upgrade, new timber stairs on the northeastern side and a new timber boardwalk are being built.
Other Van Damms Lagoon enhancements include:
* A new grassed open space (with amenities).
* Weed removal and wetland planting to enhance water quality.
* Removal of sediment from the lagoon.
* Construction of a new maintenance access track.
* Construction of a new deck that will overlook the lagoon.
* Replacement of existing steps.
* It is expected to be completed this year.
* Thank you to the many readers who wrote in with information about Lieutenant Forrest. Hugh Alexander Forrest of the NZ Rifle Brigade was killed in Ypres, Belgium, on October 12, 1917. He was 24. Forrest Hill Rd was previously called Whites Hill.