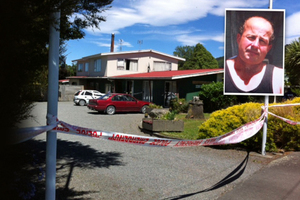 A Wairarapa supermarket worker was fatally bashed by a group in a "vigilante attack'' in retaliation for an alleged rape, a court has been told.
Featherston man Glen Jones, 40, died in hospital from serious head injuries after an attack at his home in January last year.
Three men and two woman have gone on trial in the High Court at Wellington today over the attack.
Kristofer Jones, 23, Tariana Jones, 33, Matthew McKinney, 29, and Hayden Ranson, 28, have pleaded not guilty to murder.
Kristofer Jones and Tariana Jones also pleaded not guilty to aggravated burglary with a wooden bat and an axe handle.
McKinney and Ranson pleaded guilty to the same charge.
Toni Miller, 23, is standing trial on a charge of aggravated burglary, but not murder.
Crown prosecutor Grant Burston said Mr Jones was beaten with weapons and kicked in "a vigilante attack'' in his Featherston flat.
He said the defendants had acted in retaliation for an alleged rape of a woman.
The woman, who was known to the group, complained to police about the alleged rape in December 2012. She said Mr Jones had raped her at his flat when she went to drop off some mail the previous month.
The Crown case is that Mr Jones was attacked by the four defendants charged with murder, while Miller waited on the street.
"The four defendants used their hands, feet and two weapons - a wooden bat and a wooden axe handle - and in that flat, those weapons were used to end Glen Jones' life.
"He sustained massive head injuries as a result of what happened to him in his flat. He died five hours later in Wellington Hospital form the blunt force injuries to his head.''
The court was told Mr Jones had some disabilities, including learning difficulties and epilepsy. He lived independently at his small flat on Fitzherbert St and had worked at a supermarket for 15 years.
On the night of the attack, the defendants were at a party in Masterton where they were drinking, expect for Miller, who was pregnant.
The group talked about going to the house of a man who had raped someone, with one of them commenting: "He deserves it'', the court was told.
The defendants drove to Featherston in two cars and once there, Miller and another woman waited on the street while the other four defendants went to Mr Jones' flat.
They knocked on a sliding door and forced their way in, with Kristofer Jones allegedly accusing Mr Jones of rape, the court was told.
Mr Burston said the defendants then kicked Mr Jones and beat him around the head and body with a homemade wooden bat and an axe handle inscribed with the words: "This will make you my b****''.
The defendants then fled the scene in the cars.
Mr Jones suffered major skull fractures and heavy bruising on his arms, chest and back. A neighbour who heard the attack called emergency services, but Mr Jones died in hospital five hours later.
Mr Burston said the defendants had given statements to police, except for Ranson, who declined to be interviewed. However, each of them had attempted to minimise their part in the events.
The trial before Justice Alan MacKenzie and a jury of seven women and five men is set down for four weeks.
For more articles from this region, go to Wairarapa Times-Age