Reorganised TVOne current affairs show makes headway in battle for viewers.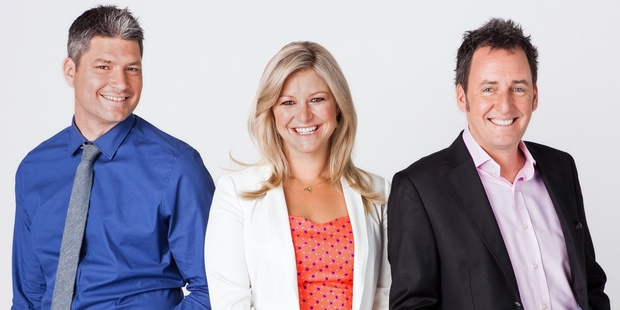 New Seven Sharp host Mike Hosking is being credited for the revamped primetime current affairs show gaining viewers in its first month back on air.
The latest Nielsen ratings show the average 5+ audience has climbed from 357,300 to 385,600 viewers in the first four weeks it screened this year.
Seven Sharp was revamped this year, with Hosking and former Breakfast host Toni Street joining the only surviving host of the controversial show, Jesse Mulligan.
Across on TV3, rival 7pm show Campbell Live had an average 5+ audience of 216,500 tuning in during its first week back. By the fourth week it had attracted an average weekly audience of 213,400 viewers.
But the networks are locked in a tighter battle in the key 25-54 age group. Seven Sharp ended the fourth week with an average audience of 97,700 viewers aged 25-54, compared to Campbell Live's average of 71,500. Just two weeks earlier, barely 100 viewers separated the shows in the age bracket.
TVNZ's head of news and current affairs John Gillespie said TVNZ was "really pleased" with the Seven Sharp results. All the right signs were there and the programme would continue to improve, he said.
Mitchener Gillman Communications partner Cindy Mitchener said Hosking could take the credit. "Mike Hosking is pulling up the Seven Sharp ratings. They're definitely doing better," she said.
Meanwhile, outspoken personality Paul Henry is enjoying a warm return to New Zealand television on his self-titled late-night TV3 news show. In its first week on air The Paul Henry Show attracted an average 5+ audience of 128,400 viewers but that fell to 100,600 viewers by the end of the fourth week.
However, the new late-night news show lags behind rival Tonight, in overall audience share, the TVNZ show attracting an average 5+ weekly audience of between 123,700 and 136,900 people in the past month.
Mitchener said the network would be pleased with result despite the low numbers. The show was performing better than its predecessor Nightline and the late-night slot was the perfect testing ground for the broadcaster to gauge public acceptability of the outspoken host. "He's been put in a place where he could do the least damage."
Both networks' ratings were steady and the difference now depended on the strength of the stories, Mitchener said.
A TV3 spokeswoman said the network was delighted with the launch of The Paul Henry Show and the return of Campbell Live and audience numbers were expected to grow.