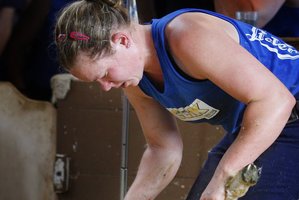 World record-holding shearing mum Emily Welch returned to the stage of her most important competition moment to win last night's invitation women's shearing event at the Golden Shears in Masterton.
It was on the same stage in 2007 that she was runner-up in the Golden Shears senior final, the most significant result for a female shearer in the 54 years of the championships apart from Junior championship wins by Canadian shearer Fiona Nettleton in 1988 and Dannevirke farmer Jane Leogreen in 1995.
Shearing a World women's record on 648 lambs in nine hours in November 2007, Welch took time out from competing to start a family, and help run a family shearing business at Waikaretu with husband Sam, and helping him set two World records.
Now with three children and at the prime shearing age of 35 she reckoned early last month she's ready to get back into it and found a good place to start being the second of three days of this year's Golden Shears, in which she was also among 79 shearers who competed in the Open championship heats.
Her run in that event ended where it started, giving her the chance to focus on the women's feature, with opposition including New Zealand women's Sevens rugby vice-captain, university student and accomplished shearer Sarah Goss, lawyer and former shearing record holder Jills Angus Burney, and diminutive Australia-based Te Karaka shearer Te Atakura Crawford, who in October won the New Zealand Merino Championships senior final in Alexandra.
Shearing her five-sheep in the event-fastest 7min 53.974sec, she found the closest opposition was Matawai shearer Catherine Mullooly, the top qualifier for today's intermediate shearing final and headed for a possible place as the first woman to win a Golden Shears title other than Junior or Novice.
Fifth to finish, Mullooly produced the event's best quality points, and claimed second place overall, beaten by 0.74pts.
Goss, having been back in the country less than 24 hours after busy Sevens commitments in North and South America was unable to match the pace, nor repeat her 2013 win in the event, and had to settle for fifth place.
Result:
Golden Shears Women's Invitation Shearing (5 sheep): Emily Welch (Waikaretu) 7min 53.974sec, 34.499pts, 1; Catherine Mullooly (Matawai) 8min 36.77sec, 35.239pts, 2; Te Atakura Crawford (Te Karaka) 8min 10.418sec, 37.521pts, 3; Kirstie Hogg (Wakefield) 8min 10.248sec, 37.712pts, 4; Sarah Goss (Kimbolton) 9min 33.918sec, 41.096pts, 5; Jills Angus Burney (Featherston) 8min 8.327sec, 45.616pts, 6.
For more articles from this region, go to Wairarapa Times-Age