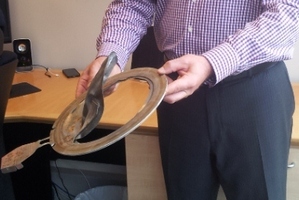 A loud explosion was heard around Kaikohe early this morning after a first-stage pressure dump valve failed at a Northland geothermal plant.
A small amount of gas was released into the atmosphere and several loud bangs were heard when a secondary safety release valve was triggered at Top Energy's geothermal electricity generation plant at Ngawha at around 5.30am.
The bangs were originally responded to as an explosion.
Top Energy chief executive Russell Shaw said the single staff member on overnight duty activated the emergency procedure to automatically shut down the plant and summoned the Fire Service before vacating the site safely. The site holds 30,000 litres of pentane gas.
Pentane is a colourless liquid which evaporates easily at room temperature and boils at 36C. It is highly flammable and mixtures of the vapour with air can be explosive.
The Fire Service entered the site and after extensive testing declared it safe at 7.17am.
The plant has continued to generate 15MW of power, Mr Shaw said.
An investigation into the cause of the pressure build-up is underway.
The build-up occurred in a vaporiser unit which transfers heat from geothermal liquid into the pentane which, in turn, drives the turbines, the company said.
A first-stage pressure dump valve which is supposed to release pressure as it built did not operate as it should have. A secondary safety release valve operated as designed, creating several loud bangs, Mr Shaw said.
"The investigation has so far shown that a relatively small amount of pentane gas was released into the atmosphere.
"We are concerned that this incident occurred but delighted that our emergency procedures appear to have worked as they should have.
"We're particularly proud of our duty staff member and the local fire service who ensured that this was a textbook response to the incident.''
Mr Shaw told TVNZ that the site was relatively close to the Ngawha village settlement and the company would be working with them to let them know what had happened.
Residents were not in any danger he said.
- APNZ