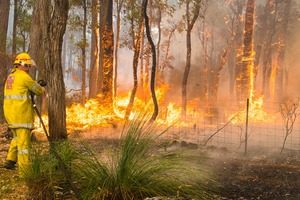 A group of rural volunteer firefighters has returned from 18 days in Australia where they helped battle the Victorian bushfires.
The team of five from Auckland was sent at the request of the National Rural Fire Authority, and joined other New Zealanders to make up the 22-strong task force.
Principal Rural Fire Officer Bryan Cartelle said he was proud of the crew.
"They got stuck in and provided help to our Australian counterparts in trying conditions of ground heat reaching the high 30s to early 40s. It's tough, arduous work fighting fires in conditions that dry and hot."
The crew mainly assisted with dry fire fighting, which includes ground raking and creating mineral earth breaks to ensure fires did not spread.
A second group of volunteer Rural Fire Response team fire fighters from Great Barrier Island, led by Auckland's Deputy Principal Rural Fire Officer Lance Dixon, left Auckland last week to further help with the Victorian state fires which continue to burn.
- APNZ