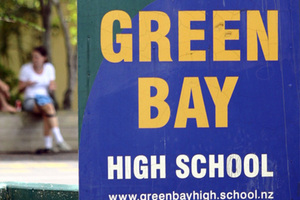 The school that excluded an Asperger's student after a row with a teacher says the decision to remove the boy was not taken lightly and all efforts were made to deal with his behaviour.
A judge yesterday quashed the decision of Green Bay High School principal Morag Hutchinson to expel the 14-year-old, clearing the way for the boy - known only as pupil "A" - to return to the school.
The boy's family had sought a High Court judicial review after he was expelled last July following an argument with a teacher over a skateboard he'd been riding in class time.
Today, Green Bay High School chairman Norm Wallace said the decision to exclude the student was motivated by concerns around safety in the learning environment.
"The decision was not taken lightly."
The school disagreed with the finding that insufficient inquiries were made in order to access appropriate resources to cope with the student's problems and the behaviours that led to the suspension, Mr Wallace said.
"The Board has every confidence that the staff involved went the extra mile to manage the student's needs.
"All available resources for the student were accessed and strategies put in to place."
The school would now look to re-engage with the family in order to "assess the immediate education pathway for this student", Mr Wallace said.
The family's lawyer, Simon Judd, last night said the boy was still enrolled at Green Bay and the family wanted him to resume his schooling there. He is currently attending an alternative education establishment.
"I think the intention is to return there when it's appropriate."
Mr Judd said the family wanted their son to return to mainstream education because they believed it was in his best interests.
The family said the boy's behaviour during the incident did not amount to gross misconduct, and the school had used the incident as an excuse to remove him from its care.
In his decision, Justice John Faire said the boy was a student with a significant disability which, at times, manifested itself in behavioural problems which included an inability to react when placed in a confrontational position.
"How he should be handled when placed in such a situation clearly required skill."
It was "unfortunate" more time was not taken by Ms Hutchinson before she made the decision to suspend, he said.
- APNZ