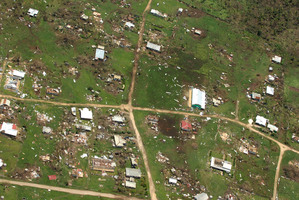 A Tongan woman suffering medical conditions prohibiting her from flying is being deported back to a cyclone-ravaged village.
The woman has been living in New Zealand illegally, after arriving in the country on a work visa as a baker in the 1990s, Radio New Zealand reported.
Doctors have warned that the woman was unfit to fly due to her heart and thyroid condition.
The unnamed woman is from an area of Tonga ravaged by Cyclone Ian. One person was killed and thousands were left homeless after the cyclone tore through northern Tonga last month.
The Tongan woman's husband of 24 years has already been deported, RNZ reported.
They come from the Ha'api island group, where up to 70 per cent of homes and buildings were destroyed following Cyclone Ian.
More than half of Ha'api's 8000 residents were made homeless, and many of their crops were wiped out by the cyclone.
The mother of two and grandmother stayed in New Zealand to be close to her family after her visa ran out.
Her husband was now living with his nephew in Tonga, in cramped conditions with little food, she told RNZ.
"There is no work for him there. He says that life is hard."
The woman said it was hard being separated from her husband, and their family in south Auckland were trying to support him as best they could.
"You have to think, how is he doing in Tonga, how is he faring there?"
The woman also owed a medical specialist thousands of dollars in medical fees, RNZ reported.
"The kids, I have said to them 'I don't know what to do here anymore', but they say 'no no, we just paid. Even if we have to pay $10 for the next 20 years, we will pay, as long as you sort out your health problems and get the right medication for you, we will pay."
The woman's sister lived in Tongatapu, however her family was also struggling in the wake of Cyclone Ian, RNZ reported.
If she went to live with her sister, the nearest hospital didn't have the facilities to cater for her heart condition.
Auckland Tongan Advisory Council community head Malino Maka said residents of the Ha'api island group were reliant on the generosity of Tongans living in New Zealand to survive.
He told RNZ he supported a call by Pacific Legal immigration lawyer Richard Small and Labour's Su'a William Sio for a temporary halt in deporting people to Ha'api.
"We need to have a bit of compassion before you send some of these people to Tonga ... because you're sending them to die."
- APNZ