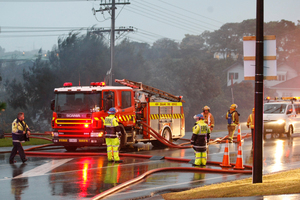 Canterbury firefighters didn't get much sleep last night with six rural fire around Ashburton, four of which may be linked and are being treated as suspicious.
Fire Service southern communications centre shift manager Andrew Norris said the first of the suspicious fires occurred on Boundary Rd in Willowby, south of Ashburton, at 4.18am where a large stack of hay bales, some 30m long, and a 100m hedge were ablaze.
"When we're talking about a hedge down there we're not talking your garden hedge, we're talking big macrocarpa trees and things like that."
Fire crews were still in attendance as of 7.30am.
At 4.35am, firefighters were called to nearby Fords Rd where a single tree was on fire.
"That one wasn't too bad,"Mr Norris said.
At 4.40am another hay bales fire was reported on Stranges Rd in Huntington, on the other side of Ashburton.
That was also dealt with quickly.
About an hour later on Tinwald Westerfield Mayfield Rd, north-west of Ashburton, there was a large barn fire.
Crews were still in attendance and arranging for a digger to arrive so it could pull the hay bales out so the flames could be more easily extinguished.
"It's a fair distance between some of the fires so whether it's one person or several people we don't know. But they could have been burning 15 minutes before they were actually seen," Mr Norris said.
"Or who knows, it could have just been a freak of nature and they were individual fires."
There were also two more fires in the region, a bonfire about 10.30pm and a paddock fire about 2.45am, but these were not being treated as suspicious.
Fire brigades from Ashburton, Rakaia, Methven, Geraldine, Mt Somers, Mayfield, Pendarves and Lauriston attended the fires.
"It meant an extremely busy night for the south Canterbury fire brigades. Not many firefighters would have slept in the region last night," Mr Norris said.
Police and a fire safety officer were investigating.
Federated Farmers called the suspicious fires "reckless and dangerous'', and called on rural communities to be extra vigilant.
"If this is arson, then the perpetrators are foolish in the extreme and should face the full weight of the law if they are caught,'' said David Clark, Federated Farmers mid-Canterbury grain and seed chairman.
"Not only is it wanton destruction of feed and shelter that our animals will need, but someone could be die as a consequence. If there is a road accident or a house fire, then our rural firefighters will be in the wrong place needlessly fighting deliberately lit fires.''
Conditions following the recent hot weather meant fires could spread quickly, he said, so advised farmers to have fire extinguishing equipment to hand.
"A ute or trailer fitted with one or two 1000 litre totes and a pump means you may be able to extinguish a fire before it takes hold,'' he said.
He also called on farmers to be ``extra vigilant'' of suspicious vehicles and activity, and to be "the eyes and ears of the emergency services''
"Given it is suspected arson there is a risk of copycats. Federated Farmers is recommending that farmers relocate bales of hay away from roads and access points. At least that will make it more difficult for an arsonist to do damage.''
- APNZ