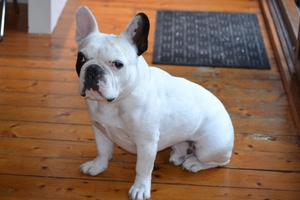 Qantas have launched an investigation into the death of a dog they were transporting on a delayed flight from Sydney to Auckland.
The French bulldog was among breeds previously banned on international flights by the airline - and several other carriers around the world because its respiratory problems have led to many deaths on flights - but it changed its stance after a successful international trial.
Gene Gibson, 23, and girlfriend Alyshia Howes, 20, say they knew the risks the breed carried but fear the two-hour delay contributed to the death of their 5-year-old dog, Buster.
The Waiheke Island couple recently returned to the country after spending a year in Australia and had organised for the pet, which had been cared for by a relative, to be flown here on a Qantas flight on Wednesday with the help of Australian pet travel agency Jetpets.
"I'm just really upset at the moment," Mr Gibson said.
"The dog meant a lot to us - like a child.
"He was really part of the family and we paid premium to make sure he would be okay on the flight.
"I basically got a call and [from Qantas] said to me: 'Oh Gene, I've got some bad news. Upon arrival, we've gone to retrieve Buster and he was found deceased'.
"I just couldn't believe it. I hung up on him."
He had the animal checked and cleared by two vets in Sydney and was guaranteed that it was healthy and fit for air travel.
A Qantas spokeswoman told the Herald the airline previously banned snub-nose cats and dogs on international flights.
The company changed its stance following global research but recommended to owners that their pets travel in bigger cages.
Owners are asked to sign a waiver acknowledging that they understand the risks. Mr Gibson said he signed the waiver but paid extra for a large cage - A$3500 ($3789) in total - which was supplied by the airline.
The airline official said: "Qantas has expressed its condolences to the owner and is investigating the situation in consultation with veterinary practitioners.
"At this stage we believe the animal died of natural causes."
Qantas staff followed strict guidelines when it came to handling animals and the airline worked closely with animal welfare agencies and vets.
A North Shore veterinarian, who did not want to be named, said it was not uncommon for dogs to die during transit.