Flights are resuming at Wellington Airport this afternoon after a thick, heavy fog lifted over the city, paving the way for one of the hottest days of the year.
Some fog remains at the airport this afternoon but a number of flights had resumed by about 12.45pm today, airport spokeswoman Briarley Kirk said.
However, passengers are still being urged to check their flights on the Wellington Airport website or with their airlines.
"There is still some fog at the airport so we do expect there to be ongoing disruption until it clears,'' Ms Kirk said.
Send your weather-related photos or videos here.
Prime Minister John Key was among the passengers affected by the fog. He had been due to visit Nelson today but a spokeswoman said he regretfully had to cancel due to the fog.
"We apologise for any inconvenience this has caused,'' she said.
The fog rolled in from the Cook Strait yesterday evening, forcing 29 passengers to seek shelter in the airport terminal overnight due to flight disruptions.
"The airport took their contact details, let them know of the emergency and safety procedures and provided them with an area where they could rest,'' Ms Kirk said.
The fog had burned off in central Wellington by mid-morning and the city was expected to see one of the hottest days of the year, according to MetService.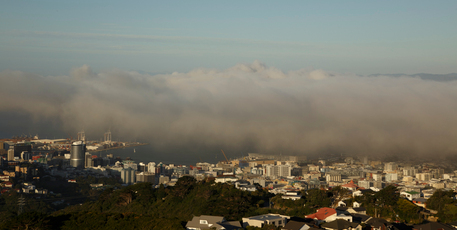 Meteorologist Mark Todd said high temperatures today will burn the fog off about mid morning.
Once it was cleared the region should see in one of the hottest days of the year, with the mercury hitting 25C in downtown Wellington and likely to reach 30C in the Hutt Valley.
"It's the hottest day of the year.''
The fog and heat comes as humidity levels across the nation have lifted in recent days due to an airflow from the sub-tropics, WeatherWatch said.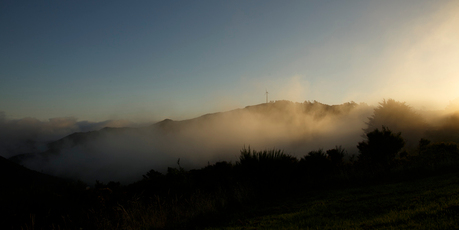 The humidity had made temperatures feel several degrees above predicted highs in some areas.
"It's subjective - not everyone agrees with the readings, but the vast majority identify with the fact it's felt more like the low 30s than the mid 20s in a number of places in recent days,'' WeatherWatch head analyst Philip Duncan said.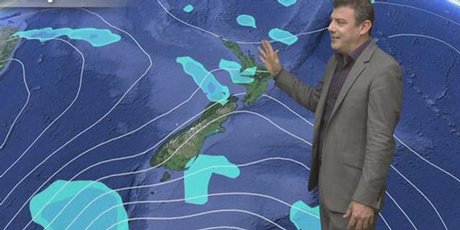 However, the humidity and heat should decrease with a southwest change over the weekend.
"A large high will roll in behind this change on Sunday and Monday bringing settled, dry and hot weather to many places - but with slightly lower humidity levels than this week.''
Humidity and easterlies would increase again in the upper North Island through next week.
- APNZ