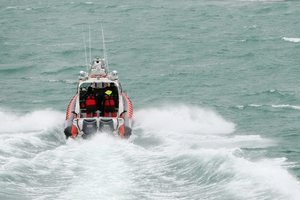 Are you in the area? Send photos or video here.
Two people have suffered mild smoke inhalation but are otherwise lucky after the boat they were on caught fire near Waiheke Island, forcing them to call Coast Guard and abandon ship.
The fire, which was reported about 6.20 tonight, sparked up when the 14 metre launch was at Crusoe Rock, half-way between Waiheke and Motuihe Islands Coast Guard spokesman Georgie Smith said the fire caused "extensive damage" to the pair's vessel.
"They contacted Coast guard via cell phone saying that their vessel was on fire and they were abandoning ship."
They then abandoned the vessel into a dingy, Ms Smith said.
Members of the public on board other vessels were alerted by smoke coming from the vessel and went to help.
They were uplifted by members of the public and transferred to a Coast Guard boat, which took them back to shore.
Coast Guard then began to tow the vessel toward Park Point - as it was still burning - to ground it and prevent it from sinking.
Volunteer fire fighters aboard another Coast Guard vessel positioned themselves alongside the burning boat and attempted to put the fire out as it was being towed.
However, the boat "burnt to the waterline" and was lost at sea only 300 metres from shore, Ms Smith said.
Buckland's Beach resident Alan Stewart could see the "huge burn" from his home.
"The black smoke was blowing a hell of a long way, and up high,'' Mr Stewart said.