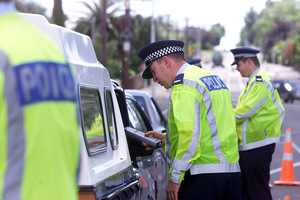 A woman was caught drink driving twice within six hours after having her keys confiscated by a Mid Canterbury highway patrol officer at the first offence.
Senior constable Mark Harker of Selwyn said the woman was first stopped for her erratic driving on State Highway 1 in Ashburton about 2.30pm on Friday. She went on to fail a breath test with a 930mcg reading - the legal limit is 400mcg - before opting for a blood test.
The officer suspended the woman from driving and took her car keys.
Much to his surprise, Mr Harker received a call from the communications centre to say the same car had been seen six hours later, swerving over the highway near Chertsey.
He pulled her over south of Dunsandel about 8.30pm, where she was found to have a reading more than 1200mcg.
"She was swearing, unsteady on her feet ..." Mr Harker said.
"She had no regard for any other law-abiding road users and was self-obsessed on getting to Christchurch."
Mr Harker said police were now trying to get to the bottom of how she was able to start the car again.
He believed the woman had gone on to drink more alcohol after being nabbed in Ashburton, due to her increased excess breath alcohol reading.
"I would say she has carried on drinking after leaving the Ashburton Police Station. You would think the reading would have gone down to maybe 400 or 500 after she has been released six hours later. Where what or how we don't know."
Police had impounded the woman's car.
A 38-year-old Timaru woman will appear in the Christchurch District Court on March 4 charged with driving while suspended and driving with excess breath alcohol for the third or subsequent time.