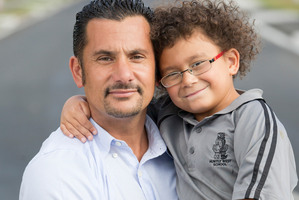 Shaun Crosswell jogged beside a moving truck whose driver had passed out behind the wheel and reached into the cab to apply the brakes.
Mr Crosswell is one of two men whose quick thinking and bravery police say prevented a potential tragedy, when an out-of-control 29-tonne truck drove some 8km down State Highway 1 between Auckland and Hamilton last Friday.
Huntly West School principal Banapa Avatea drove directly behind the truck to stop other traffic passing after he saw it driving erratically and crashing into barriers near Hampton Downs.
He followed it for about 8km while on the phone to a 111 dispatcher until the truck crashed hard into roadside barrier, causing it to slow significantly.
He and Mr Crosswell, who was about three cars back in the traffic queue, chased it down the road on foot to try to stop it.
"It was only rolling along reasonably slowly which was good, but when I opened the door to the truck I realised I couldn't get in because the steps to the truck had been smashed away,'' Mr Crosswell said.
"The only way to stop it was to jog next to it and use my hand as a foot brake. It was my only option to be honest.''
Mr Crosswell said his biggest fear when he had been following the truck along the busy motorway was that it would glide through one of the gaps in the median barriers and collide with oncoming traffic.
"That would have been carnage. I had contemplated driving my car in front of the truck to try and stop him, but I thought the truck was a little bit too big to do that. So when it smashed into the barrier and the truck started to bounce I saw that as my chance and just ran for it.''
Once the truck was stopped, he and Mr Avatea realised the driver was diabetic so gave him a banana and muesli bar to get his blood sugar levels up.
"He was away with the fairies,'' Mr Crosswell said.
He added that he had only been doing what he hoped anyone else would do in that situation.
Waikato district road policing chief Inspector Freda Grace said Mr Crosswell and Mr Avatea had prevented a potential tragedy.
"When you consider the risks posed to other motorists, let alone to the roading contractors working on the road works at Rangiriri, we could easily have been dealing with a tragedy,'' she said.
Police would look at ways of recognising the actions of the two men.
- APNZ