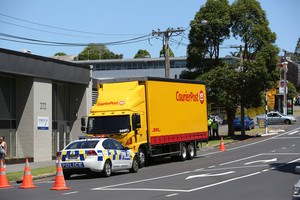 Police have admitted and apologised for disseminating incorrect information about an incident where a female pedestrian was hit and severely injured on Sunday.
The 37-year-old woman was hit by a truck on Richmond Rd near the Countdown supermarket at about 10.30am.
Police initially said the truck was reversing with its back tray down and pinned the woman against a wall. They said the impact resulted in one leg being severed and the other requiring"surgical removal".
This morning Auckland City Police spokeswoman Noreen Hegarty issued a short statement to the Herald.
"The information you received from police is incorrect," she said.
The woman's family had asked police to retract the information. They requested privacy, and wanted the public to know that the initial story published about the incident was based on incorrect information from police.
"Police accept the information passed to you is incorrect and apologise for any confusion is has caused," Ms Hegarty said.
The woman's family had requested no further information about her injuries or current condition be released. Ms Hegarty could not comment further on the specifics of the incident or clarify exactly what injuries the woman suffered to her legs as it would breach the woman's request for patient privacy.
The woman's family did not wish to speak publicly about the incident.