City leaders call the NRL Nines tournament an economic game changer.
City leaders are breathing a sigh of relief after Auckland made it through what has been described as one of its "greatest weekends".
The City of Sails' job of hosting the three big events that drew more than 200,000 people at the weekend has been hailed as a demonstration that the city can live up to its new marketing campaign "The Show Never Stops".
The successful handling of large crowds by agencies and hotels, bars and restaurants has also prompted city leaders to call the first NRL Auckland Nines tournament an economic game changer. And it doesn't look like ending anytime soon.
The Nines will be back next year and the year after that as Eden Park has a contract to host the event through to at least 2016. An option then exists to extend it for an additional two years.
Auckland Mayor Len Brown yesterday called the Nines "hugely successful" which Australian cities now wanted to emulate, while business group Heart of the City said major events were critical to building a modern urban economy.
Auckland Tourism, Events and Economic Development (Ateed) chief executive Brett O'Riley, said: "We have demonstrated that the show truly never stops in Auckland and we can host a world-class line-up of sports, cultural and entertainment that has attracted visitors from around New Zealand and internationally.
We estimate a total of 200,000 people have enjoyed one of Auckland's greatest weekends.
"In particular, we are on Cloud Nine that we have successfully delivered the inaugural Dick Smith NRL Auckland Nines, our first home-grown international sporting event. Aucklanders have done this city proud in the way they have embraced these events and our visitors."
The domestic visitor market is worth $1.3 billion a year to the city's economy and the Ateed visitor plan aims to raise the value to $2 billion a year by 2021.
Ateed has a $1 million budget this financial year for the campaign and its private sector partners a similar sum.
Mr Brown said: "It has been a stellar weekend for Auckland, which has confirmed our ability to confidently stage multiple major events."
Auckland hotel sector chairman for the Tourism Industry Association, Rob McIntyre, said it was a busier period than when the Rugby World Cup was held in Auckland in 2011. "Auckland has been very full since Monday night and it's still carrying on. It's not just the Nines - it's every event that's added to it. The incredible success means hotels have enjoyed higher rates but generally there has been no price resistance. Everybody has been happy to be in the city and understand it's a busy weekend."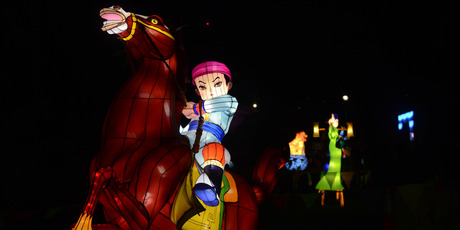 Judith Tabron, owner of Soul Bar & Bistro at the Viaduct Harbour said trading was similar to an All Blacks test in Auckland.
"We've had a great weekend. The crowds have been well behaved and trouble-free."
Heart of the City chief executive Alex Swney said Auckland was now on the way to becoming an event city like Wellington and Melbourne and events were the cornerstone to urban economies. "It's a game we ought to be playing more and often.
"For too long we have traded on the natural attractions like our harbour, but the reality is these do not have a deadline to them and if you wanted to see the Nines, the Lantern Festival and Eminem, you had to be in Auckland, this weekend."