Air Force crew withstand insurgent fire to evacuate soldiers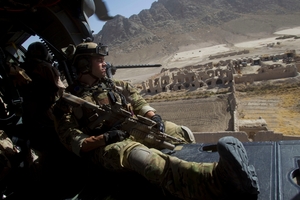 A Kiwi soldier wounded by friendly fire in Afghanistan has paid tribute to a US Air Force search and rescue crew after they received one of the US military's highest honours.
Details of the dramatic rescue of former New Zealand soldier Corporal Peter Page and five others after the "Battle of Baghak" were revealed in the latest edition of Air Force Magazine.
The American journal described how two US Pave Hawk helicopter crews drew heavy fire as they tried to winch Page and another Kiwi soldier from a ledge in the Baghak Valley.
They made it back to base with a few minutes of fuel to spare.
Insurgents ambushed the Kiwi forces in the remote Baghak Valley on August 4, 2012.
Lance Corporals Rory Malone and Pralli Durrer were killed, and six soldiers were injured, three seriously.
Trapped and exposed in the remote valley - with widespread confusion after commanding officer Major Craig Wilson was seriously wounded - US air support was called in to evacuate the wounded.
Two chopper crews landed in the narrow, treacherous valley during a lull in the fighting and took seven of the worst-injured Kiwis and Afghans to the nearest forward operating base, Combat Outpost Khilagay.
After a rushed refuelling, the two Pave Hawks returned to the combat zone and co-ordinated with an F-16 in the area to make a "show of force".
"The jet screamed down at low level, making a deafening noise and letting the bad guys know that airpower was on the scene," reported Air Force Magazine.
The helicopter returned to where Page and another Kiwi soldier had been left stranded for several hours and hoisted them out while under fire.
Captain Michael Kingry told Air Force Magazine: "I was holding the aircraft in a hover and looked out - and basically I saw five or six ... bright flashes of light all aimed at our aircraft."
Kingry took evasive action and ordered his .50-calibre gunner to return fire. "I remember telling our gunner, 'Burst, 10 o'clock, 300 metres. Burst, 10 o'clock, 300 metres. Then I finally just yelled, 'Shoot 'em! Shoot 'em'."
They then pulled off what Kingry called "the best combat hoist that I've ever seen" to extract the Kiwis from the steep mountainside.
Air Force Chief of Staff General Mark Welsh III presented five airmen with Distinguished Flying Crosses at a ceremony in Japan.
Page said: "We were in awe of the courage and skill required to perform such a rescue. They did so without hesitation, and were calm and professional in a highly intense and situation.
"We know that the recognition they received is well deserved.
"We regret not being able to thank each crew member in person. But we are very grateful for their acts of bravery."
US tactics were criticised in the New Zealand Defence Force's Court of Inquiry into the battle, which found its air support had inadvertently helped the insurgents escape.
"Evidence suggests that the use of the fast air to drop flares as a show of force may have assisted the insurgents in obtaining cover," the Court of Inquiry, released last June, reported. The court was not informed of the rescue as it did not have access to the helicopter mission reports.
Bravery unrecognised
The heroics of New Zealand soldiers during the Battle of Baghak is yet to be officially recognised.
Army chief Major General Dave Gawn recommended recognition for "several individuals" when he released the results of a Court of Inquiry eight months ago. "I am considering the merits of these recommendations individually and will take the requisite action through the appropriate channels in due course," he said at the time.
But the Defence Force has waited for the results of a Military Police inquiry that resulted in a senior officer being charged with planting explosive devices. A spokesman said last week a decision on whether the officer would face a full court martial was yet to be made.