Fullers says it may install larger tanks on problem boat but denies passenger's claim of incident this month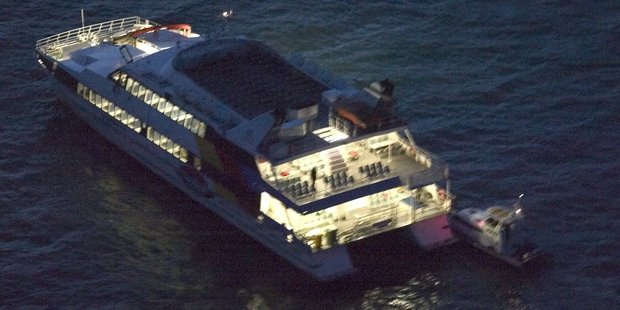 Ferry operator Fullers admits dumping raw sewage into the Hauraki Gulf, but says a new Waiheke Island vessel due in August will have large enough holding tanks to avoid that.
The revelation follows concern it is polluting the marine environment rather than taking advantage of a $400,000 disposal system installed for the company - at ratepayers' expense - at the Downtown ferry terminal.
Fullers spokeswoman Michelle Boag has denied a passenger's claim that the 600-seater Superflyte dumped sewage on February 7.
But she acknowledged there had been busy times when ferries dumped effluent into the gulf.
"The occasions where they have pumped out at sea have tended to be only on really busy trips during summer, when they have a full ferry and they have got an overload."
Ms Boag said the alternative would be stopping passengers from using the toilets.
She said the problem was mainly with the Superflyte rather than the other large ferry, the Quickcat.
Larger tanks might also be installed on the Superflyte on its next annual maintenance survey, as had already happened with four Fullers ferries, Ms Boag said.
Waiheke resident Lynette Reed says she was chatting happily about the island with Asian visitors on the Superflyte "when suddenly we were assaulted by a strong sewage smell".
"We were on the Auckland side of the Motuihe Channel and the ferry was emptying its sewage tank," she said. "I went downstairs and complained to the person in charge ... and she said they pump out in Auckland and also dump in the gulf."
Ms Boag said the engineer on Mrs Reed's crossing had "confirmed they did not pump out at sea that day".
She suggested the passengers might have smelled odours from someone flushing a toilet.
But Mrs Reed said: "I've lived on Waiheke and commuted long enough to know what a toilet smell is, and it was definitely sewage."
Auckland Council's marine pollution team is investigating.
Mike Lee, council member for Waitemata and Gulf, said he had been unaware of any marine discharges since the onshore pumping system was installed but a reversion to old practices would mean unacceptable pollution.
"A Fullers ferry carries more people than a jumbo-jet-load of passengers."
New dumping rule a surprise to all
Thousands of Auckland boaties will be surprised and upset by a new rule banning them from dumping raw sewage within two kilometres of land, says ferry company Fullers.
Spokeswoman Michelle Boag said the company itself became aware of the Auckland Council rule change only when consulting its lawyers this week, over a complaint by a passenger of alleged dumping from its Superflyte ferry to Waiheke.
"They were being prudent in going to their lawyers and asking what their obligations are," Ms Boag said. "And the lawyers said, actually back in September they [the council] made these changes, so anybody who discharges from any vessel within 2km of the high-water mark is breaking the law. The council hasn't told anybody and there are going to be thousands of boaties up in arms."
Sewage could previously be dumped from ships and boats at least 500m from shore, and in water more than 5m deep.