Families of Lucille Scollay, and of her victim, are thankful she's been found not guilty of murdering her husband.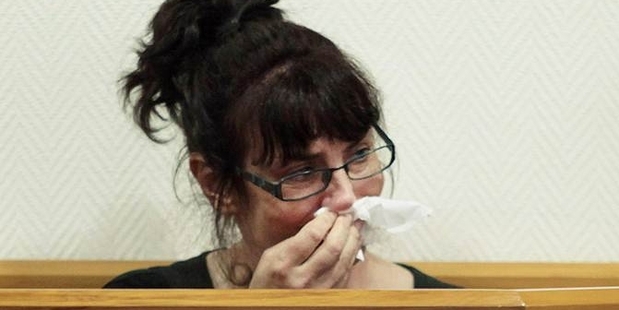 Moments after Lucille Scollay was found guilty of manslaughter by stabbing her husband through the heart, both her family and her victim's gasped with relief.
The Scollay murder trial in the High Court at Christchurch took just three days before a verdict was reached.
It wasn't just the trial's brevity that made it unusual: both families were united in their support of the defendant.
"It is just such an incredibly sad, sad story," one family member commented.
A joint statement by the families after Mrs Scollay was cleared of murder but convicted of the lesser charge of manslaughter said: "The family of Guy Scollay hold no animosity towards Lucille for this tragedy.
"The family of Lucille Scollay are deeply saddened. A son is lost, a wife has lost her husband, and a young man will now have to be without both father and mother."
The couple's only child, Louis Augustus, declined to be interviewed. He supports his mother. After giving evidence on the first day of the trial, he hugged her in court. She sobbed and apologised for putting him through such an ordeal.
The 45-year-old admitted stabbing her husband as he slept early on February 10 last year. But she denied meaning to kill him.
Her defence claimed she wanted only to shake her deeply depressed 48-year-old husband out of his funk and make him realise just how desperate their lives had become.
Mrs Scollay had become very frustrated and dissatisfied with their lives, the court was told. Her husband, a bright history major, had become profoundly depressed shortly after the birth of Louis 20 years ago.
Mr Scollay was on anti-depressant medication and the methadone programme. He barely left their house, suffering undiagnosed agoraphobia, and was essentially bedridden with scabies - his only release was smoking cannabis.
His withdrawal from society and his refusal to attend family functions had sent his wife into her own deep despair.
Louis Scollay told the court his mother often didn't get out of bed until 3pm and struggled to hold down a job. Her family had encouraged her to leave her beloved "Guido" and get her life back on track.
The Crown said that after spending a night out drinking with Greg Van Dyk, whom she'd become close to, she walked up the long drive to the house and decided to kill her husband. She took him by the shoulder as he lay sleeping on his side, rolled him on to his back and straddled him, brought the knife up and stabbed him in the chest, a deep wound that penetrated his heart, the Crown said.
Her defence denied she had murderous intent that night.
Louis had been woken by her shrieking. He found his father - whom he was very close to - lying "limply on his back with blood coming out". Mrs Scollay was apologising to her husband and pleading with him to stay alive. "He was basically just saying that it was okay ... that he had accepted his fate," Louis said.
Despite her immediate remorse and desperate efforts to save his life, Mr Scollay died from loss of blood.
There were relieved gasps of "yes" when the jury returned its verdict yesterday. Mrs Scollay faces a lengthy jail term, but much shorter than the minimum non-parole period that goes with a murder conviction. APNZ