Police hunt for swindler who they say duped hotels, tourists in three-week spree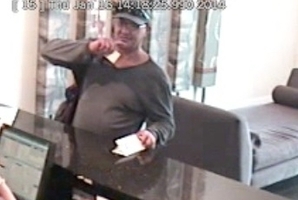 Police are racing to catch a mystery man whose dealings have left several motel owners and duped tourists thousands of dollars out of pocket.
The unidentified man, described as confident and convincing, is alleged to have made five bogus accommodation bookings, ripped off several tourists with fake job offers, and sold a stolen rental car - all within the past three weeks.
The detective in charge of the case is dealing with a dozen victims around Taupo and Tauranga, but says there may well be more.
"There are a number of crimes starting to tally up and we obviously need to get our hands on this guy before he rips other people off," Detective Sergeant Darryl Brazier of Mt Maunganui CIB told the Herald.
The tattooed man's first reported offence was in Tauranga on January 18, when he prebooked three nights' accommodation using fake company emails.
The scam was not discovered until the owners sent the accounts to the email addresses, which were "legitimate email addresses but they are not the business addresses they purport to be".
Other accommodation providers around the Tauranga area and Taupo were caught out in similar circumstances, most recently when the man booked a week's stay in Papamoa on Tuesday.
"He comes across as a very believable and plausible character," Mr Brazier said.
"He uses stories, such as his mother has recently died or is extremely ill, and tries to obtain sympathy from them."
But most worrying had been his approaches to tourists, befriending them and offering casual work in a fish factory for a cash finder's fee.
With the fake offers, the fraudster had also tried to convince his victims to hand over extra cash to buy cellphones and iPads they were told were needed for the jobs.
Several tourists had been duped in Taupo - one losing $1500 - but he had failed to elicit cash from others approached in Tauranga.
The man is also alleged to have stolen a Nissan Tiida from a rental agency in Mt Maunganui and then sold it to an unsuspecting buyer in Taupo.
The buyer - who was told "all sorts of reasons" the money could not be paid into an account - discovered it was reported stolen only when trying to register it.
Mr Brazier said the man's claims were clever to the point that he had put "a bit of thought into it - but they are sophisticated enough to con the proprietors of some hotels".
"We are working on it, but obviously the biggest thing is to collate what he's doing and locate him."
The suspect, who has given out a variety of names and phone numbers, has short black hair, missing front teeth and tattoos on his left forearm.
People who can help identify the man should phone Detective Sergeant Darryl Brazier on (07) 577 4300, or call Crimestoppers, anonymously, on 0800 555 11.