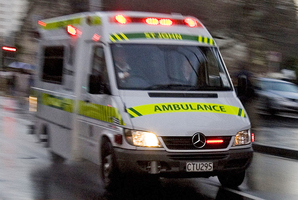 The family of a woman who lost her unborn child in a head-on collision with a French tourist have set aside their grief to forgive her.
Photographer Marion Laure Heurteboust today admitted three charges of careless driving causing injury over a two-car collision at 9.30pm on Sunday on Whangarei Heads Rd, Whangarei.
The Manukau District Court heard Heurteboust was driving alone, heading back to Auckland on what was supposed to be her final day in New Zealand, when she realised she needed to turn around.
She then drove a short distance in the other direction - on the wrong side of the road - and collided with a car driven by Bradley Nelio, 19.
Mr Nelio and a 14-year-old in the back seat suffered injuries, but the most severely affected was 18-year-old Reiana Giles, who was in the passenger's seat.
Her 30-week-old unborn child died and Ms Giles' pelvis was smashed. She faces a six-week hospital stay and will have to learn to walk again, police Sergeant Bevin Adamson said.
Tomorrow a funeral will be held for the unborn child.
However, her family was also concerned for Heurteboust's wellbeing.
"The over-riding feeling to all the parties involves is one of forgiveness,'' Mr Adamson said.
Ms Giles' family appreciated comments made in a letter penned by Heurteboust, and Ms Giles' father had recorded Mr Adamson reading it out to play to his daughter later.
Defence lawyer Paul Borich said Heurteboust was distraught about the crash. She had cried when he showed her the victim impact statements.
Judge Moses said the crash was a tragedy, but it was not the first time a visitor to the country had driven on the wrong side of the road.
He said the victims had a "mature understanding'' of Heurteboust's predicament.
"They know that it was not on purpose. They know that you did not mean to hurt anyone.''
Heurteboust, who stood in the dock with her left arm in plaster, was ordered to pay $4000 emotional harm reparation to Ms Giles and $500 each to Mr Nelio and the 14-year-old. She was also disqualified from driving for a year.
This was one of two crashes in the region involving French drivers in less than 48 hours, leading Far North councillor Colin Kitchin to call for the painting of direction arrows in the left-hand lanes of important tourist routes.
- APNZ