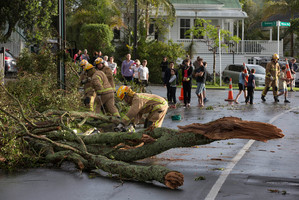 Nearly one in four New Zealanders are not prepared for a national disaster, according to a Statistics New Zealand survey, released today.
However, the 2012 New Zealand General Social Survey found the proportion of people with basic preparations - a three-day supply of food and water and a household emergency plan - was up from 17 per cent in 2010.
"Unsurprisingly, the region with the highest level of basic preparation was Canterbury - 40 per cent had basic preparations, up from 28 per cent in 2010," said Statistics New Zealand general social survey manager Philip Walker.
Marlborough (36 per cent) and Hawkes Bay (30 per cent) also had high proportions of people who were basically prepared.
The regions with the lowest rates for basic preparation in 2012 were Northland, Auckland, Waikato, Otago and Southland, with less than one-fifth of people in those places prepared.
Nationally, 17 per cent of people had better than basic preparations for a natural disaster with a torch, portable radio, spare batteries, first aid kit and essential medicines. This was up from 12 per cent in 2010. About one-third of New Zealand households had an emergency plan in 2012, up from about one-quarter of households in 2008.
Civil Defence emergency management director John Hamilton said the survey showed a continuing trend since 2006.
"The message is we are getting improvements but we cannot be complacent, as the Canterbury, Cook Strait and Eketahuna earthquakes showed us." he said.
"Importantly, it is not just earthquakes. Winter is coming, ... We will have storms, slips and floods, just like we do every year. They can cut roads, power, water and other services."
Mr Hamilton urged people to be prepared with enough stored food and water for three days or more, and to have a plan for what their families will do when some of them are at home and others at work, school or elsewhere in civil defence emergencies.
- APNZ