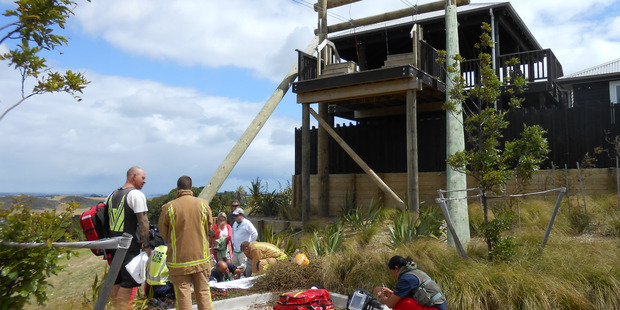 A 10-year-old tourist seriously injured his back when he fell seven metres to the ground from a flying fox on Waiheke Island.
The accident happened just after the boy stepped off the flying fox platform about 11.20am today, Westpac Rescue Helicopter paramedic Russell Clarke said.
The boy was airlifted to Starship Hospital in a serious but stable condition.
Mr Clarke said the boy was a tourist who was only three or four days into his holiday when the accident happened.
"He'd fallen from the start of the flying fox, about seven metres to the ground. It was what we consider an extreme height for a fall - you can obviously suffer some pretty serious injuries with a fall from that distance.''
Mr Clarke said the boy was doing really well.
"His mum and dad were pretty calm as well, so it was quite a surprise to see him holding up so well.
"He was in a fair bit of pain but we gave him some pain relief and got on top of his pain for him and flew him to hospital.''
The boy would have to undergo scans and X-rays to make sure he had not suffered any serious damage.
Mr Clarke said he had been strapped into a harness and had a helmet on at the time of the accident.
"Unfortunately something's gone wrong and he's fallen off the flying fox.
"It's an awful way to start a holiday, but hopefully he'll get cleared by the hospital today or tomorrow, and still might be able to get on his holiday.''
- APNZ