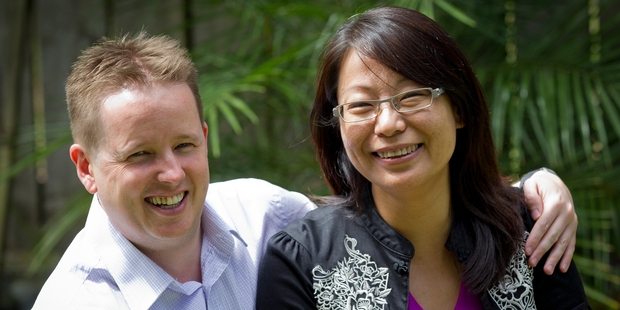 When Anthony Marter met Susan Zhu, not only did he find a wife but also a reason to be celebrating Valentine's Day twice in the year.
The 37-year-old software product manager said until he met Ms Zhu, a migrant from China, he was not aware that the lantern festival, celebrated on the 15th day of Chinese New Year, was also regarded as the Chinese Valentine's Day.
Mr Marter said attending community activities and events with Ms Zhu, 39, the deputy chairwoman of the Auckland Council Whau local board, has given him "great insight and understanding" of the Chinese culture.
"We believe in love every day, but it's wonderful to have that official excuse and reason to be celebrating the big day of love twice every year," he said.
"It's great being married to someone from another culture because it makes your life twice as rich."
But this year the 15th day or Yuan Xiao Jie, will fall on Valentine's Day.
Mr Marter will be overseas for work, and will be spending his first Valentine's apart from Ms Zhu, a lawyer and former teacher from China, since they married in 2008.
"Usually, we would be at the Auckland Lantern Festival together and go somewhere nice for dinner afterwards," said Ms Zhu.
"This year, I think we will just have to make do with either a romantic phone call or communicating with each other online."
This is the Year of the Wooden Horse, which is believed to be a good one for romance, marriages and babies.
Auckland feng shui master James Dong said the lunar calendar year has two springs, and people who married in double spring years usually enjoyed good relationships.
It will be a romantic year especially for those in the 21, 23, 27, 33, 35 and 39 age groups, he said.
Paul Young, an event planner and photographic studio operator, said this was shaping up to be a "busy year for Chinese weddings".
"What we are hearing is that photographers are being heavily booked, and restaurants are also being snapped up by Chinese couples who want to tie the knot this year," Mr Young said.
There are different legends and beliefs about how the lantern festival originated, but all agree that it celebrates positive relationships between people and families.
Tangyuan, a glutinous rice ball first eaten about 800 years ago, is still traditionally eaten during yuan xiao jie.
The Chinese believe the round shape of the balls and the bowls in which they are served symbolise unity and togetherness.