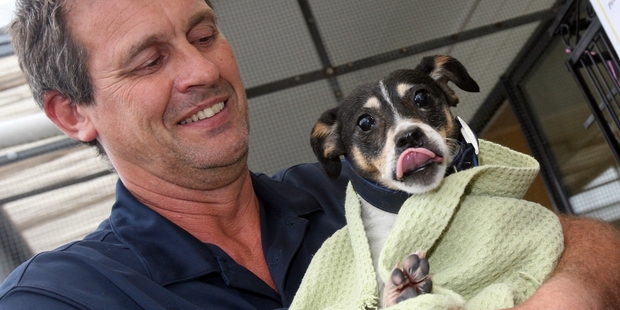 A reclusive man who lay dead in his rural Eketahuna home for two weeks may have only been discovered because his dog Princess stopped barking at the postie.
Mike Blundell, 67, died around the end of December from natural causes and it was his dog's behaviour that raised the alarm.
"One of the rural mail people noticed the dog acting strangely, usually it would come to the gate and bark at her but it didn't,"said Lesley Gibson, SPCA Wairarapa animal welfare officer.
The postie's partner went in to check on Mr Blundell and found him dead on his bed, she said.
'It's very sad, the man was quite reclusive so no one realised."
The postie, Doreen Gaskin, said she sensed something was wrong because the dog was acting "just a bit different" and the mail was building up.
"We really need to look out for our older people that live on their own."
Mark Chapple, one of his few close friends, said the former security guard and wrestler, was a bit of a recluse and didn't like getting close to people.
"He didn't have a very happy childhood, he was abused by his father."
With no family as such, he owned some sheep, chickens and dogs, said Mr Chapple,
"He did have a son but the last time he saw him was about 40 years ago."
Mr Chapple said when one of Mike's dogs, Mitzi, died in 2009, he was very upset.
"He loved animals."
His last surviving pet, a Fox Terrier-Jack Russell, aged around 9, stayed beside her dead master until the police came, causing her to flee and hide under the house.
"She wasn't used to any other humans," said Mr Chapple.
Mrs Gibson said it took a while to catch the dog, who was terrified but otherwise healthy.
"She actually had plenty of water, and we think she ate ducks."
Mr Chapple wasn't sure how his friend died but knew he was plagued by heart troubles.
Mr Blundell would often end up in hospital but refused to stay there.
"One time he had a heart attack and drove himself to Masterton and had another one there and then discharged himself."
Mr Chapple said a service hasn't been held yet because it took police some time to identify Mr Blundell and the coroner had only issued an interim death certificate.
Mr Blundell's neighbour Joel Aagesen said he was shocked when he heard about the death.
He said he was probably one of the few people his neighbour talked to.
"He didn't mind me.
"If I was working out in the paddock, he would come out and talk to me."
Mr Aagesen was looking after his sick mother around Christmas and hadn't seen him for a while.
"Around Christmas, I thought I hope he hasn't died over there, no one would ever know."
Mr Aagesen's partner, Janine Palmer, said her neighbour lived a solitary life and had some funny ways.
"He liked putting up fences."
She said he kept to himself but did go out. "He'd come into the Four Square where I used to work for his Lotto and to get his cigarettes."
He would give us surplus eggs from his hens too, she said.
"He was a good guy."
Mr Chapple said he gave Princess to the SPCA because he was unable to take her.
Lloyd Warren, SPCA Wairarapa centre manager, said the dog, now renamed Petal, had since adjusted to life without Mr Blundell and had a new home.
As there was no next of kin, it was an unusual situation, said Mr Warren.
"It was very sad for the dog."
He said for the first two weeks at the centre volunteers had to sit with the dog.
"She was absolutely terrified, I was really concerned."
Mrs Gibson said the dog had come out of her shell and was wagging her tail now.
Mr Blundell, who was born in Wellington, had lived in Eketahuna since 1999.
Mr Chapple said that a service would likely be held in the next two weeks and Mr Blundell's ashes would be scattered on his property.
For more articles from this region, go to Wairarapa Times-Age