Shipwreck stories give lessons for leader on modern Auckland Islands adventure.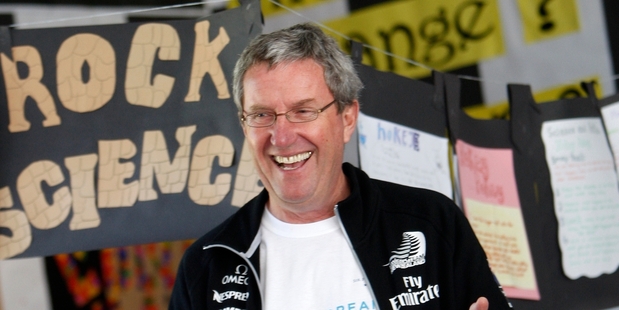 Twelve Kiwi students set off on Monday on a 13-day voyage to the Auckland Islands south of New Zealand where they will help to plan the building of a world-leading research station. They will be joined on the Young Blake Expedition by a crew of marine scientists, representatives from the Navy, the Department of Conservation, Niwa and the the Sir Peter Blake Trust. This week we talk to five of the expedition's members. Today, Ross Blackman, who has been involved in the management of New Zealand's America's Cup campaigns, in roles ranging from sailmaker to chief executive. He was one of the founding managers, with Sir Peter Blake and Alan Sefton, of Team New Zealand in 1993 and is deputy chairman of the Sir Peter Blake Trust.
Q: What will your role as leadership director on the Young Blake Expedition entail?
Sharing with the Young Blake Expedition leaders what it was like to work alongside Sir Peter Blake and what we can learn from his leadership and management style.
I want to help ensure that they return with the skills and knowledge to be able to inspire and mobilise others to understand and care about what is happening in their marine environment too.
Q: What do you think the most challenging part of the sub-Antarctic expedition will be for the crew?
All crew members will need to think hard before they act, at sea and on the islands. We will be 450km from mainland emergency services and an accident would have a serious impact on everybody on the expedition.
Q: What will you be doing to prepare for the voyage?
Lots of exercise and reading up on the fascinating history of the Auckland Islands - mostly stories of shipwreck survivors.
Q: You were business manger for Emirates Team New Zealand during the last America's Cup. Is there anything from that role that you'll be applying to your role on the expedition?
There are many similarities between this expedition and an America's Cup campaign - primarily that they both involve a team of people working on a project with a common goal. The ability to align everyone's energy, utilise their strengths and support their weaknesses will be the key to a successful expedition.
Q: How important is it to you to carry on Sir Peter's legacy as an environmental leader?
Peter was a leader in many ways. First and foremost he had a special skill in selecting people he felt could contribute to any challenge he was attempting. And he was more passionate, focused and capable of inspiring those around him than anyone else I've ever met. There are not many leaders that stand out as Peter did and to share the way he interacted with those around him, with those who never knew him, is a special privilege and responsibility. If young people can draw inspiration from Peter's story, and are inspired to attempt challenges they may not have previously thought possible, then the trust has achieved its goal.