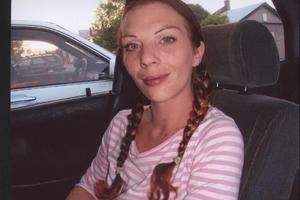 Mellory Manning. Photo / supplied
A witness who sold drugs to slain Christchurch sex worker Mellory Manning has described hearing a "blood-curdling" scream coming from the direction of a Mongrel Mob gang pad the night she was killed.
The man whose name is suppressed told Justice David Gendall and a jury of six men and six women that he'd known Miss Manning since about 2006 after meeting her thorough "associates".
He provided her with drugs, mainly morphine, "her drug of choice", until about December that year.
Gang prospect Mauha Huataki Fawcett, 26, has denied Miss Manning's murder, claiming police pressured him into making false confessions that he was present when she was killed over an unpaid debt.
The Crown alleges Miss Manning, 27, was bashed, raped and stabbed at a Mongrel Mob gang pad on December 18, 2008 before her mutilated body was dumped in the Avon River.
Fawcett, known in the gang as "Muck Dog", either took part in the killing or was there as a party to her murder, the prosecution alleges.
Taking the witness stand yesterday afternoon, the former drug dealer said Miss Manning would come to his house in Galbraith Ave, Avonside, to get drugs.
Apart from selling her drugs, he said he had no other relationship with her.
The man told the court he was with his partner at the Galbraith Ave property on December 18 when he heard a scream some time between 10pm and midnight.
"It was a horrible scream ... a blood-curdling scream." It sounded as if a woman was being attacked, he told the court.
It was a hot night and the couple had their windows open.
He said the scream lasted "a few seconds" and seemed to come from the corner of Galbraith Ave and Maling St.
The witness said he lived about 50 metres from a Mongrel Mob gang pad on Galbraith Ave.
Asked by Crown prosecutor Philip Shay if he did anything about the scream, the witness said: "No. It wasn't anything unusual for the area."
The following morning he learnt that something had happened in the neighbourhood.
Cross-examined by Craig Ruane, acting as a "friend of the court" assisting Fawcett, who is defending himself, the man said the closest time he could estimate hearing the scream was between 10pm and midnight.
He said he hadn't heard any cars arriving or leaving the street.
In earlier evidence a street worker whose name is suppressed said the Mongrel Mob were "all over" Manchester St the night Miss Manning was killed.
In evidence read to the court the sex worker said she knew Miss Manning only by her first name, Mellory.
She said she was working as a prostitute on December 18.
"Suddenly the Mob were all over the street, hitting up all the girls for $20 each," the woman said in her brief of evidence.
She said Mob members would come up to her "after a job" demanding a $20 "tax".
They said they were the Mongrel Mob and that they owned the street, she said.
She was to pay the Mob $20 for each client, she had.
The woman said a street worker called Holly who she knew was associated with the Mongrel Mob pulled up in a dark coloured four-door car with tinted windows and told her to get into the vehicle. She refused.
"I thought if I got in the car no-one would see me again."
The street worker said she had met the "Mob guys" about four months before Mellory died, and recognised Fawcett as "Muck Dog".
The trial is expected to take six weeks, with about 100 witnesses scheduled to give evidence.