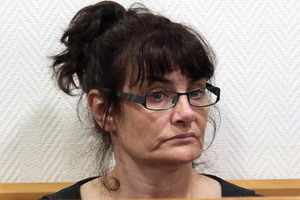 As Guy Scollay lay bleeding to death after his wife had plunged a knife through his heart, he was resigned to his fate and told her "it was okay", a court heard today.
The couple's only son, Louis Augustus Scollay, then 19, was woken by the scream of his mother Lucille who had just stabbed her husband as he lay sleeping.
He heard her saying, "What have I done?" her murder trial heard.
The panicked teenager found his mother using a towel to try to stem the flow of blood gushing from Mr Scollay's chest.
He phoned 111 and helped his mother who was telling her husband not to die.
But Mr Scollay was going very pale.
"He just got quieter and quieter," his son told the court. "He was saying it was okay ... he had accepted his fate."
Louis Scollay was giving evidence on the opening day of his mother's High Court trial in Christchurch.
Lucille Scollay, 45, "simply broke", defence counsel Rupert Glover argued.
She accepted her actions had fatal consequences but denied murdering Guy 'Guido' Scollay, 48, at the pair's Edgeware Rd home in February last year.
There were only two possible verdicts - guilty of murder or guilty of manslaughter, defence counsel Rupert Glover told the court.
"So what is really on trial is not the facts of the case but the state of mind of Mrs Scollay. It's a very, very tragic case indeed."
The court heard Scollay, a cleaner, stabbed her husband after becoming frustrated with his mental illness and worried he would never change.
In the early hours of Sunday, February 10 last year, she returned home after a night out drinking with a man she had become close to, Greg Van Dyk.
Lulu, as Mr Van Dyk called her, had drunk eight or nine stubbies of beer and had been good company that night, he told the court.
They parked outside and talked, at which point Scollay became emotional and upset as she talked about her husband.
"It all came gushing out," Mr van Dyk told the court. "She was miserable ... conflicted. She loved Guy but was unhappy with him."
Mr Van Dyk told her "not to do anything rash" but walking up the drive, she decided to kill her husband, the Crown argued.
Prosecutor Mark Zarifeh said Scollay took a large kitchen knife into the bedroom where her husband of 20 years was sleeping.
"She took her husband by his shoulder as he lay sleeping on his side, rolled him onto his back, got on top of him, straddling him as he was still half asleep, brought the knife up and stabbed him in the chest, a deep wound that penetrated his heart," Mr Zarifeh told the jury of seven women and five men.
Louis was woken by her "almost scary" shrieking.
He found his father lying "limply on his back with blood coming out".
Mrs Scollay was apologising to her husband and pleading with him to stay alive.
The court heard that Mr Scollay was an intelligent man, with an honours degree in history.
But his mental health issues never allowed him to realise his potential. He was on anti-depressant medication, a methadone programme, suffered from anxiety attacks, and left the house rarely; only to go grocery shopping, to the chemist, or a local second-hand bookstore.
Watching her "obviously quite brilliant husband" deteriorate over 20 years resulted in "pressure building up ... to a point where she simply broke", Mr Glover said.
She denied meaning to murder him that night and had denied a single charge of murder.
The trial, before Justice Cameron Mander, continues tomorrow.
- APNZ