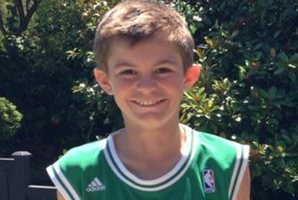 Top US basketball team the Boston Celtics have reached out to a young Kiwi fan whose one wish is to see them play live before he goes blind.
Louis Corbett, 12, has a genetic eye disease called retinitus pigmentosa.
It causes severe vision impairment and Louis - and two other siblings - will eventually lose his sight.
His story featured in the Weekend Herald and owners of the Boston Celtics heard about it via Twitter.
Co-owners of the team Wycliffe and Corrine Grousbeck have a son, Campbell, who is blind and attends the Perkins School for the Blind in Massachusetts.
In a joint statement to the Herald yesterday, they said: "We found out about Louis through the magic of social media and the fact that some of our followers knew about our connection to Perkins and tweeted the article to us."
They have offered to pay for Louis to travel to the US to watch a game.
Louis' father, Tim Corbett, was stunned when he heard the news.
"It's just out of this world stuff. To have someone care for a 12-year-old kid on the other side of the world is just amazing. We've been stunned by the generosity of people."
Mr Corbett said it had been a whirlwind weekend since Louis' story had appeared in the paper.
The family have spent the past few months trying to get Louis to see as much of the world as he can, after tests showed his sight was rapidly getting worse.
"What we're trying to do is for Louis not only to see and experience as much as he can now, but for his future as well," Mr Corbett said.
"We want him to believe in himself and we want him to know that there are very generous people in this world. A lot of people are giving him a lot and we want him to know that he needs to give back too."
To donate
Visit the Give A Little website: www.givealittle.co.nz/cause/louisbigtrip