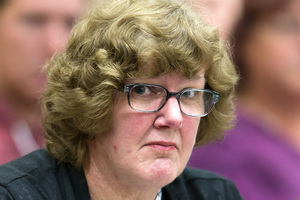 The sister of murder victim Phil Nisbet says she had to act as "best friends'' with his killer - and the ploy to gather evidence was the hardest thing she has ever done.
Lee-Ann Cartier will return to New Zealand from Australia next week for the sentencing of her former sister-in-law Helen Milner, 50, who was convicted last year of murdering Mr Nisbet.
Dubbed the Black Widow by former colleagues, Milner killed her second husband by poisoning him with a sedative and suffocating him with a pillow.
His death in May 2009 was initially ruled a suicide, but a homicide investigation was launched two years later after a coroner raised doubts.
Ms Cartier became sceptical of Milner's story within days of her brother's funeral and, from her home in Queensland, did her own detective work and supplied information to police.
She told Radio New Zealand this morning she had to play at being "best friends'' with Milner for two months.
"It's so hard when you're trying to pretend to be someone's best friend and really you just want to throttle them - you know they've murdered your brother and just even talking to them makes you sick,'' she said.
"That was just the hardest thing I've ever done, is be that two-faced person. It's not me.''
The ploy lasted only two months before Ms Cartier ``lost it'' with Milner.
Ms Cartier said she was never tempted to accuse Milner on the spot. But Milner's accusations - that Mr Nisbet was a male prostitute, that he was having an affair - did not make any sense.
When Milner handed Ms Cartier a typed and signed suicide note, she knew her brother had been murdered.
"That was the slam dunk - she's definitely murdered him, this is why everything didn't add up. I knew at that point, without a doubt, she'd killed Phil.''
The verdict in December was "total relief'' but the toll had been considerable.
"We're still gearing up to come back for the sentencing. It's still down the track before we can really get our lives back on track.''
Milner will be sentenced on Thursday next week.
- APNZ