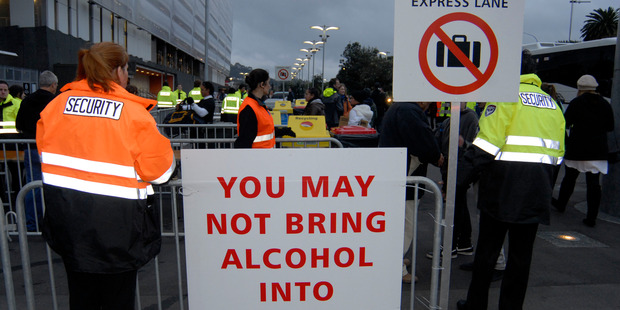 Auckland police are anticipating a "huge" weekend as tens of thousands of people flock to various events around the city, with crowds expected to be the biggest since the 2011 Rugby World Cup.
The NRL Auckland Nines at Eden Park, the Lantern Festival at Albert Park and Queens Wharf and the Eminem concert at Western Springs are all taking place between Thursday and Sunday.
Authorities are trying to avoid the chaos of last weekend's Rugby Sevens tournament in Wellington, where 20 arrests were made and almost 300 people evicted from Westpac Stadium.
"It's a huge weekend for the police," said Inspector Gavin MacDonald.
"The main message we want to put out is no intoxication will be tolerated."
Police in Wellington were critical of the number of breaches of liquor regulations at the Rugby Sevens tournament, saying more needed to be done to reduce the number of drunk people in the stadium.
Mr MacDonald would comment on whether this had made police re-think their approach to the Nines event, but he said controlling alcohol consumption was the key to their operation.
Eden Park chief executive David Kennedy said various steps were being taken to manage drinking at the stadium.
This included a limit of four drinks per person, lowered to two later in the day; only 4 per cent alcohol content beers and RTDs; and the inclusion of a family-friendly zone where alcohol was not permitted.
"We have a lot of work to make sure we get that balance right between fun and intoxication, which are two very different things - we encourage people to come and have a really good time with their friends, we don't encourage them to be intoxicated."
Auckland Council also announced today it would continue to operate a 'Safe Zone" in Queen Elizabeth Square in downtown Auckland.
It was due to finish at the end of January but this had been extended to accommodate this weekend's events.
Auckland Transport chief operating officer Greg Edmonds said they had substantially increased public transport services for the duration of the events.
"Across the entire rail and bus network we've got additional services on Friday, Saturday and Sunday to bring people to and from the events and we're ready to go."
Another Auckland Transport spokesman Mark Hannon said there were no concerns about a repeat of the commuter chaos during the Rugby World Cup, where Auckland's transport system ground to a halt, stopping thousands of rugby fans getting to the opening game.
"We've moved on from the Rugby World Cup... we're doing this every week now with major events," he said.
"There are full-houses at Eden Park several times a year."
Security guards and Maori Wardens would be posted at stations to deal with intoxicated commuters, and police would also travel on trains.
ATEED general manager destination and marketing Rachael Carroll said they were expecting more people in the city than had been seen since the closing of the 2011 Rugby World Cup.
They had set up out an operations centre where those involved would study the city as a whole during the events.
"We've done this all before and we'll do it again," she said.
- APNZ