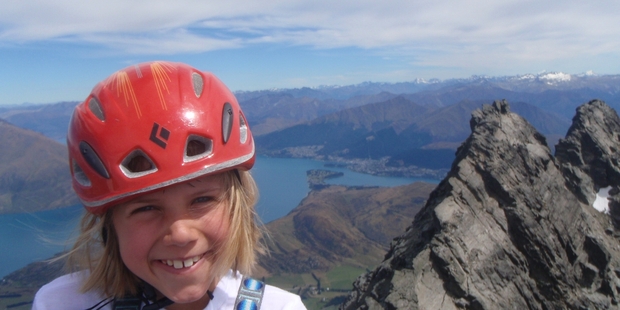 A 7-year-old girl has made a fearless climb of the towering Remarkables mountain range.
Queenstown Primary's Sarah Schreiber knocked off the jagged rocky peaks' highest point Single Cone, which stands at 2320m, with her father Frank last weekend.
The pair took the challenging northeast ridge route which over looks some substantial drops and requires some careful climbing, with the option of using ropes for precaution in places.
It also requires some daunting abseiling down an exposed descent gully.
Queenstown climbing veteran and local Alpine Cliff Rescue boss Chris Prudden is impressed: "It's a good ask for a 7-year-old to stay focused for that long and keep the effort up.
"For a 7-year-old to get up there is a great achievement."
Frank Schreiber said his daughter is very outdoorsy and loves mountains but her lack of fear surprised even him.
"I said 'Are you scared?' She said, 'No, it's all right'.
"We got up to the top and there's another 3m to the actual tippy top, and she was not on the rope and was like 'Oh well that's where the pole is' and ran up. She was like 'Wow, that's cool, where's Queenstown?"'
Sarah said the only thing she was nervous about during the climb and descent was not getting to the top - and matching the feat of 9-year-old brother Ben who did it last year with Frank.
"I was a bit nervous when going up because I really wanted to get up to the top 'cos it was my first time going up there and because it was the highest peak of The Remarkables," she says.
"I'm really happy. It was a big achievement."
Prudden adds: "The best thing about it is it's a young person not totally distracted away from the natural world and into computers and computer games.
"In the long term they'll take that with them, both as a realisation and awareness of the real world around us which is pretty cool."
Queenstown Climbing Club president Guillaume Charton said Sarah may be the youngest to make the summit.
Charton invited her to attend a club Youth Climbing Camp at Mount Cook at the end of the month.
- Mountain Scene