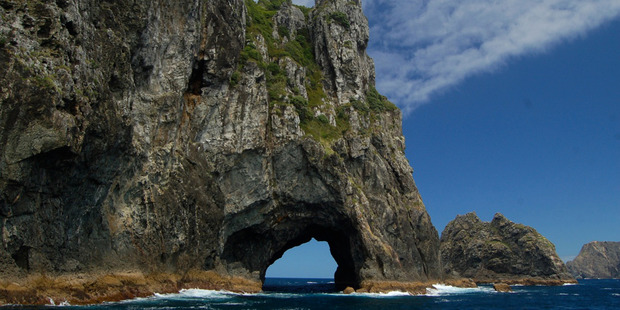 We at the Motu Kokako Ahuwhenua Trust are reminded of the kaitiaki obligations that we have inherited from our tupuna (ancestors). Indeed, our tupuna were among the chiefs that signed te Tiriti at Waitangi in 1840. This year is particularly poignant, as our trust is engaged in a campaign aimed at maintaining our mana moana, mana whenua over our island, Motu Kokako (Hole in the Rock). Not surprisingly, the usual suspects have responded with misinformation and misunderstanding over the aims and objectives of our trust, most recently Sir Bob Jones.
We would like to be very clear about what it is that we're doing. Our actions stem from our kaitiaki responsibility, which is to promote and enhance the cultural, spiritual and environmental integrity of our motu. This is why we last week conducted a biodiversity survey on the island with Massey University scientists, and why we have a longer-term programme aimed at better understanding and protecting the ecosystems on, around and below the island.
The trust primarily funds its work from its heli-tourism joint venture with Salt Air, which has just celebrated its first anniversary. It was a lot of hard work getting the venture up and running but it has been a great success, allowing the trust to ensure that tourists enjoy an authentic cultural experience, and demonstrating the benefits of commercial operators engaging and working with Maori. We would add that all of the trustees' work is voluntary, and far from reaping money for nothing, can involve significant financial sacrifice.
The boat tour operators earn millions through the use of our island as the focus of their tours, and pay the owners nothing. This is hardly fair, and we are heartened by the support that we are receiving from Maori, Pakeha and overseas tourists alike.
An appropriate cultural and commercial arrangement does not have to be win-lose. It is possible to create win-win agreements, as we have already demonstrated with Salt Air. The tour operators would help fund our kaitiaki work on the island, and would operate with mandated cultural narratives and the blessing of the Maori owners.
Together we could work to promote and enhance the value of a unique Bay of Islands icon. We emphasise that a respectful arrangement that acknowledges the mana of the owners over Motu Kokako, and provides us with a voice in all that concerns it, is our primary objective. The financial component is secondary.
Waitangi Day is also special this year because we have just had our Wai 2022 Treaty claim heard by the Waitangi Tribunal, and are awaiting the Tribunal judgment and Office of Treaty Settlements negotiations. Our trespass action in the early 1990s failed in part because the New Zealand maritime law, which protects the right of vessels to free passage on the "high seas", did not also acknowledge Maori customary rights to waterways. Why the water flowing beneath our motu should be regarded as the high seas remains a mystery to us, as while the passage is navigable for some vessels, no vessel needs to enter the airspace beneath our island and, in fact, it can be dangerous to do so.
We are optimistic of legislation arising from our Wai 2022 claim, which will correct this, and allow us to fully exercise our kaitiaki role over the island and surrounding waterways.
We inherit our kaitiaki obligations from our tupuna who signed te Tiriti to protect our lands, forests and fisheries and all other taonga. Our actions in seeking to protect Motu Kokako are nothing less than our tupuna would expect from us.
• Rau Hoskins is chairman of the Motu Kokako Ahuwhenua Trust.