Although Opposition leader claims a warm reception, his colleague Shane Jones is not amused by 'snub'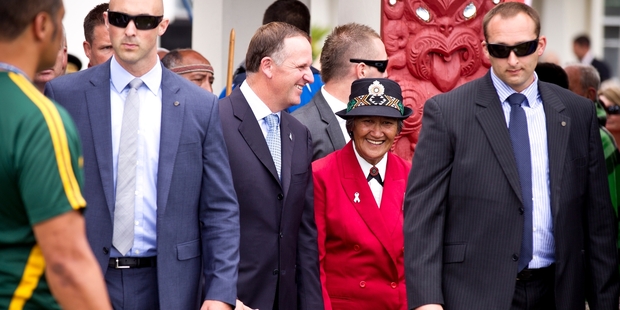 While claiming a warm reception at Te Tii Marae yesterday, Labour was snubbed by those at Maoridom's top table who were meeting the Government nearby.
In a day relatively free of the drama that has marked previous pre-Waitangi Day events, David Cunliffe said he and his colleagues were given a "heart-warming" welcome during his first visit to the marae as Labour leader.
Down the road, Prime Minister John Key and senior ministers met the the Iwi Chairs Forum at their annual Waitangi conference.
Outside Te Tii Marae, Mr Cunliffe said: "Strangely enough we haven't yet had an invitation.
"That's a very interesting state of affairs because most leadership groups at least try to pay lip service to bipartisanship in an election year."
His Maori affairs spokesman, Shane Jones, was more forthright, likening it to a whakapohane or "bare-arsed snub".
"It's unfortunate that their treatment of the next Government is in this vein. They will find that snubs are often found on a two-way street."
The chairman of Te Runanga a Iwi o Ngapuhi, Sonny Tau, who is also chairing the Iwi Leaders Forum this week, said it was the forum's policy to talk only to the Government at the Waitangi meeting.
"The issues we raise can only be addressed by the Government of the day. If we invited Labour we'd have to invite every political party across the spectrum and we don't have time to do that."
Mr Key said his message to the iwi leaders was that "if you look at the progress and achievements of this Government in the last five-and-a-bit years we can point to a very strong track record" on Maori issues.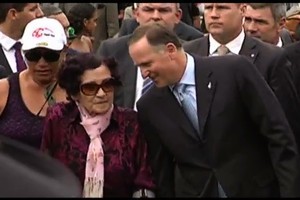 Mr Key will speak to the iwi leaders again today, when he will underline his government's record on completing Treaty settlements, a message of significance to hosts Ngapuhi, who are close to reaching a deal.
"We've been on a rapid train of progress. It's working well."
Yesterday's events at Te Tii saw the Greens' Metiria Turei become the first female political leader to speak at the marae.
"It was an incredible honour and a little scary," she said afterwards.
"I think I was given this honour because the Green Party has had such a consistent commitment to Maori issues," Mrs Turei said.
The Green Party's core messages around "our kids, our lands and our oceans and how we can protect and sustain them are important issues for Maori".